Last Updated On 27 September,2017 09:33 am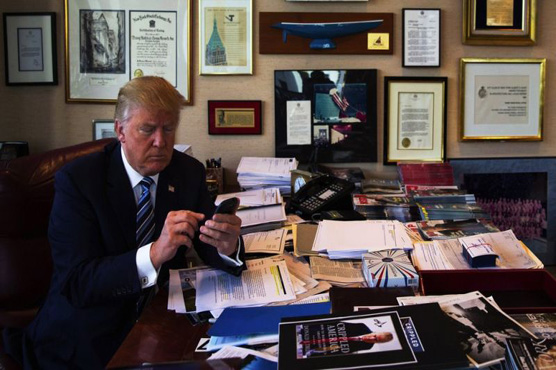 A tweet from Donald Trump sparked outrage for breaching the social media platform's terms and conditions. Photo: Reuters
(Web Desk) – Twitter came under fire after failing to remove President Trump's tweet, considered to be against terms and conditions of the social media website. In the tweet, Trump appears to threaten North Korea with destruction.
According to BBC, Twitter was forced to elucidate their status as to why the social media site did not believe a tweet from the President of the United States did not violate their company's terms and conditions.
In response Twitter has said that the tweet was not removed because of the nature of the tweet was "newsworthy".
In a series of tweets aimed to bend the ensuing row among users, Twitter tried to clarify its users its rules: "Some of you have been asking why we haven't taken down the tweet.
---
Just heard Foreign Minister of North Korea speak at U.N. If he echoes thoughts of Little Rocket Man, they won t be around much longer!

— Donald J. Trump (@realDonaldTrump) September 24, 2017
---
"Among the considerations are newsworthiness and whether a tweet is of public interest. This has long been internal policy and we ll soon update our public-facing rules to reflect it."
Current policy states that users "may not make threats of violence or promote violence, including threatening or promoting terrorism".
The tweet from the President of the United States Donald Trump according to the North Korea's foreign minister has been a threat to declare war on his country, but Washington has said that such an assertion is "absurd".
Many users argued that the statement by Twitter was in breach of its own terms, which forbids any kind of violent threats and should be removed.