Last Updated On 29 August,2017 01:25 pm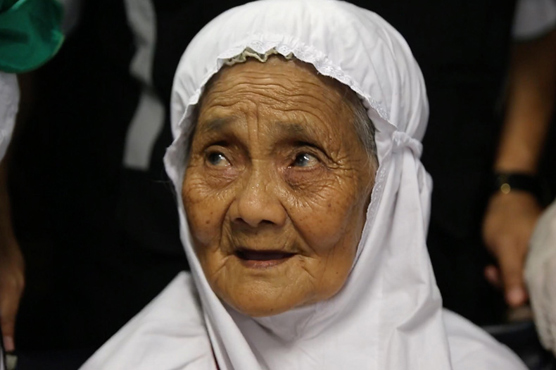 Ibu Mariah Marghani Muhammad, one of the oldest people who will be performing Hajj this year, arrived in Saudi Arabia prior to the pilgrimage. Photo: Khaleej Times
(Web Desk) – A 104-year-old Indonesian woman is going to perform Hajj this year. Ibu Mariah Marghani Muhammad, who is one of the oldest people who will be performing Haj this year, arrived in Saudi Arabia prior to the pilgrimage.
According to Khaleej Times, Ibu Mariah before leaving to Saudi Arabia said that she is thrilled to be on her way to the Holy City of Makkah to perform Haj.
"Alhamdulillah (Praise be to Allah), I am going to Makkah, Alhamdulillah I am going to Hajj," Ibu Mariah was quoted as saying in a press release shortly after her flight landed at King Abdulaziz International Airport in the port city of Jeddah.
The woman was dressed in the pilgrimage Islamic dress, a white head-to-toe dress, said that she has already performed Umrah Pilgrimage when she was 90 years old.
---
August 26, 2017
---
The oldest pilgrim this year will join about 221,000 others from Indonesia who will perform Hajj.
Saudi authorities have stated that more than 1.5 million pilgrims have arrived in Saudi Arabia. A total of two million Muslims will perform Haj this year, which will start from August 30 to September 4.
Indonesian Consulate officials stated that the oldest pilgrim Ibu Mariah is in good health and will be able to perform her Hajj rituals.
A spokesman for the Centre for International Communication, said: "Saudi Arabia warmly welcomes Ibu Mariah. The Hajj is the spiritual highlight in the life of every Muslim. At the age of 104, it is remarkable for Ibu Mariah to be here. We wish her well."
Pilgrims from 80 countries are expected to perform Hajj this year.