Iraqi forces preparing advance on south Mosul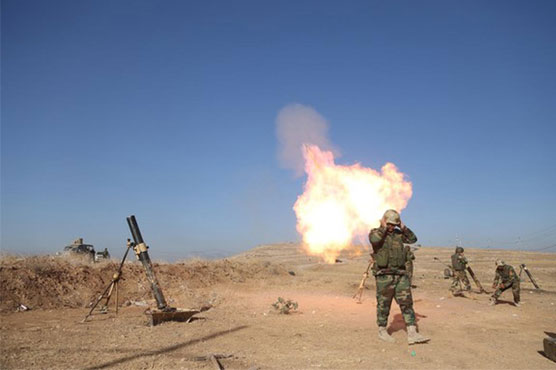 Officers say they plan to resume their advance north, up the western bank of the Tigris River.
SOUTH OF MOSUL/BAGHDAD, IRAQ (Reuters) - Iraqi security forces are preparing to advance toward Mosul airport on the city's southern edge to increase pressure on Islamic State militants fighting troops who breached their eastern defenses, officers said on Thursday.
The rapid response forces, part of a coalition seeking to crush the militants in the largest city under their control in Iraq or Syria, took the town of Hammam al-Alil, just over 15 km (10 miles) south of Mosul, on Monday.
Officers say they plan to resume their advance north, up the western bank of the Tigris River towards the city of 1.5 million people who have lived under the ultra-hardline Sunni Islamists for more than two years.
More than three weeks after the U.S.-backed campaign to retake Mosul was launched, the city is almost surrounded by the coalition of nearly 100,000 fighters. But troops have entered only a handful of neighborhoods in the east of the city.
"We need to put wider pressure on the enemy in different areas," said Major-General Thamer al-Husseini, commander of the elite police unit which is run by the Shi'ite-controlled Interior Ministry.
He said operations would resume within two days.
Lieutenant-Colonel Dhiya Mizhir said the target was an area overlooking Mosul airport, which has been rendered unusable by Islamic State to prevent attackers using it as a staging post for their offensive.
Army officers told Reuters in September the militants had moved concrete blast walls onto the runway to prevent planes from landing there.
Satellite pictures released by intelligence firm Stratfor also showed they had dug deep trenches in the runways and destroyed buildings to ensure clear lines of sight for defenders and to prevent advancing forces from using hangars or other facilities.
On the southern front, security forces took cover behind a mound of earth and fired at Islamic State positions from armored gun turrets.
The village of Karama was mostly deserted apart from a handful of residents and a few dozen Iraqi forces. A cement factory they recaptured three days ago was battered by gunfire.
"They used car bombs as we moved in and this street was heavily mined, but the battle wasn't hard," said 19-year-old recruit Abdel Sattar.
---
NIMRUD RUINS
---
Separate forces advancing on the eastern side of the Tigris targeted two villages on Thursday on the edge of the ancient Assyrian city of Nimrud, a military statement said.
Troops from the Ninth Armoured Division took the village of Abbas Rajab, four km east of Nimrud, and raised the Iraqi flag.
The Iraqi government says Nimrud was bulldozed last year as part of Islamic State's campaign to destroy symbols which the Sunni Muslim zealots consider idolatrous. It would be the first such site to be recaptured from Islamic State.
Counter terrorism forces and an armored division fighting in the east of the city have been battling to hold on to half a dozen districts they surged into a week ago.
They have been hit by waves of attacks by Islamic State units, including snipers, suicide bombers, assault fighters and mortar teams, who have used a network of tunnels under the city and civilian cover in the narrow streets to wear them down in lethal urban warfare.
Residents contacted by telephone on Thursday said aircraft from the U.S.-led coalition supporting the Iraqi forces were circling the skies above eastern Mosul. They heard the sound of heavy clashes, artillery and mortar fire.
The militants were hitting back, they said. "Daesh (Islamic State) fighters were firing mortar bombs from a garden next to us which they had taken from a Christian," one person said.
"They were bombarding the Zahra neighborhood where the Iraqi forces are. The war planes hit back with small rockets and destroyed the mortar and killed three of them," he said, adding he had moved his family to another district.
Counter Terrorism Service (CTS) forces have been fighting in Zahra for a week, sometimes gaining ground only to be pushed back on the defensive. A senior CTS officer said on Thursday the neighborhood was fully under control.
"I'm very happy. I can't believe that we're over this terrible nightmare," said another resident who returned to Zahra after taking refuge outside the city. "But we're still frightened that Daesh might return".
"We need more attacks on the other neighborhoods to liberate them and drive Daesh further away."
The militants, who have ruled Mosul with ruthless violence, displayed bodies of at least 20 people across the city in the last two days - five of them crucified at a road junction - saying they had been killed for trying to make contact with the attacking forces, residents have said.
The United Nations has warned of a possible exodus of hundreds of thousands of refugees from the city. So far 45,000 have been displaced, the International Organization for Migration said on Thursday.
Those figures exclude the thousands of people forced to accompany Islamic State fighters as human shields on their retreat into Mosul from towns and villages around the city.