Last Updated On 31 May,2016 02:41 pm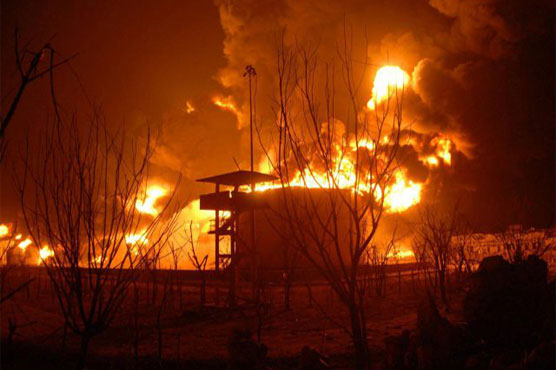 Thousands of families living in the area had been evacuated from nearby towns and villages.
MUMBAI (AFP) - A fire at one of India's largest military ammunition depots Tuesday killed at least 17 soldiers and injured scores more, officials said, as footage showed flames lighting up the night sky.
The massive blaze broke out overnight at the high security army facility stockpiling tonnes of bombs, grenades and other ammunition outside the city of Pulgaon in central India.
Thousands of families living in nearby towns and villages have been evacuated from surrounding areas in the western state of Maharashtra, amid fears of secondary explosions at the depot.
"Seventeen people have died. Nineteen are injured but are out of danger," Smita Patil, superintendent of Wardha district police, told AFP by phone from the scene.
"An operation is in progress and the fire has been brought under control," Patil added.
Two officers were among the 17 soldiers killed, according to the Press Trust of India news agency, and an investigation was underway into the cause of the blaze.
PTI reported that the other 15 were members of India's Defence Security Corps, whose personnel provide security at defence sites.
India's military has a history of fires and other accidents that have been blamed on lax safety standards.
Maharashtra Chief Minister Devendra Fadnavis said there has been a "great loss of lives and property" at the massive depot without giving details.
Firefighters using 10 engines worked through the night to contain the blaze which broke out at 1:30 am (2100 GMT Monday), Ramesh Barde, a fire officer from the nearby city of Nagpur, told AFP.
"The fire was brought under control by 6:15 am. The situation is under control and a report is being prepared," he said from the scene.
The depot is one of the largest in India, providing ammunition for the army, navy and air force, Colonel Danveer Singh, an associate editor an Indian Defence Review magazine, told AFP.
The sheer size of the depot means trains are used to transport ammunition on kilometres of railways lines around its grounds, defence expert Brigadier Sandeep Bhalla told NDTV.
---
Latest incident
---
Prime Minister Narendra Modi said he was "pained by loss of lives", adding on Twitter that his "thoughts are with the bereaved families".
The accident was the latest to hit the Indian armed forces in recent years and the largest since August 2013 when submarine INS Sindhurakshak burst into flames in Mumbai, sinking the vessel and leaving 18 sailors dead.
In February 2014 a fire aboard a nuclear submarine also killed two officers off the Mumbai coast.
In 2007, in the northern region of Indian Kashmir, a fire wrecked an ammunition dump, exploding artillery shells and mortar rounds, which rained down on surrounding villages. At least 17 people were killed and two dozen injured.
A fire also ripped through one of the army's largest ammunition depots in 2010 in Kolkata, destroying 150 tonnes of explosives and ammunition. But no one was killed in the accident.
Defence Minister Manohar Parrikar was on his way to the accident site, around 700 kilometres (435 miles) east of Mumbai while Indian army chief General Dalbir Singh Suhag was also expected to visit.