Last Updated On 17 August,2017 01:14 pm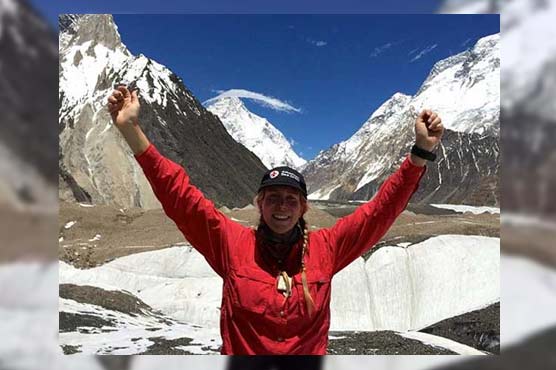 "I love Pakistan, its people and will like to travel it again," said Vanessa O'Brien
ISLAMABAD, Aug 15 (APP): American-British female mountaineer, Vanessa O'Brien, who recently scaled K2 said on Tuesday that the warmth and love she received in Pakistan was matchless.
"I love Pakistan's people more than its mountains," she told media in a news conference here at a hotel. Vanessa said she found Pakistani people loving and caring.
"I love Pakistan, its people and will like to travel it again," the 52-year old, who carried flags of both the US and Pakistan atop the mountain said.
She said she would prefer to do something for Pakistan and its youth. There were so many opportunities in Pakistan, she said adding it needed support in various sectors and she would like to do something for this country.
Vanessa, who had already ascended Mount Everest and other lofty peaks around the globe said technically K2 was more difficult peak than the Everest. "Less than 400 people have climbed K2, and for every five that summit it, one dies. This compares to Everest where 7,600 people have scaled that mountain.
"As far as women, who have climbed K2, I'm officially the 20th to climb K2, just a speck compared to Everest's 489 women," she said.
Vanessa's K2 team consisted of climbers from China, Norway,
Scotland, Pakistan and Nepal. She appreciated her team members saying, "I'm extremely proud of this team for their dedication, perseverance, bravery and commitment to reach the summit of K2 and to take additional risk." To a question she said women should try to come forward and do something different. "They should try new things. And I believe they are capable of doing anything.
"But they also need the support and backing of men. Men should be forthcoming. Their support can help women achieve their goals," she said. "I believe one should set their sights high, announce their intentions, ask for help, learn from their mistakes, believe in guardian angels and not let others tell you it is over until you say it is over.
"Pivot outside your comfort zone, to try something new, knowing that you have safety net of accumulated knowledge, skills and experience that no one can take away from you," she added.