Govt failed in protecting people: Sherpao
Last Updated On 17 February,2013 About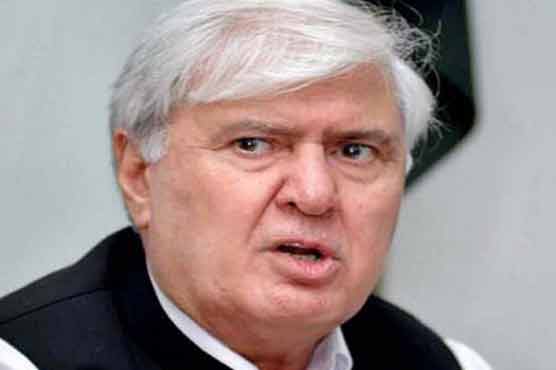 Says federal and provincial govts have no strategy to address issues confronting Pakhtuns.
.
BUNER (Online) - Qaumi Watan Party Chairman Aftab Ahmad Khan Sherpao on Sunday said the government had failed to restore peace and provide protection to the people.

Addressing a public gathering here to mark the 38th death anniversary of Shaheed Hayat Mohammad Khan Sherpao, he said the federal and the provincial governments couldn't adopt a comprehensive strategy to address the issues confronting the Pakhtuns.

QWP provincial Chairman Sikandar Hayat Khan Sherpao, General Secretary Bakht Baidar Khan, Saleem Advocate, Masood Jabbar, QWP district president Prof Hameedur Rahman, general secretary Maumbar Bacha and Bakhtiar Ali were also present on the occasion.

Aftab Sherpao said those doing politics in the name of the Pakhtuns had abandoned them and had done nothing to mitigate their sufferings. He maintained that his party had raised voice for the cause of the Pakhtuns at all platforms and would continue making efforts to secure their rights.

He said that no concrete step had been taken to revive the damaged infrastructure in Malakand division where law and order situation was also unsatisfactory.

The QWP leader the country's economy was on the verge of collage due to the ill-conceived policies of the present set of rulers, who were only serving their own vested interests.

He said that power consumers were facing prolonged and unscheduled power cuts despite the fact that the price of electricity had been increased manifold.

He said the government had given no relief to the masses in the face of backbreaking inflation and the price of daily use items had increased, crippling the purchasing power of the poor segments of the society.

Aftab Sherpao said the QWP would resist any move to either postpone or delay the upcoming general elections. He said the government should take steps for creating an environment conducive to holding the polls in a free, fair and transparent manner.

He said his party was the real representative of the Pakhtuns and no effort would be spared to serve them. He said his party had the ability to steer the country out of the prevailing crises and put it on the path to progress and development.

He paid glowing tributes to Hayat Mohammad Khan for rendering services for furthering the cause of the Pakhtuns.

---
---
Advertisement