Khurshid slams PML-N's double standards on new provinces
Last Updated On 30 January,2013 About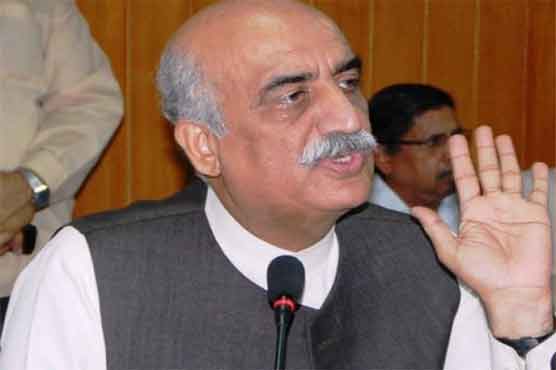 PPP leader Syed Khurshid Shah says politics of sit-ins should not be encouraged.

ISLAMABAD: Talking to reporters after attending the beauty, Qirat and Naat competitions at Islamabad Model College for Girls F-7/2 on Tuesday the federal minister slamming PML-N opposition to new provinces said that PML-N has double standards first it got resolution passed from the Punjab Assembly regarding setting up of commission on new provinces and when a commission was made by President Asif Ali Zardari now it is itself has boycotted the commission.

He said that government has invited PML-N, verbally and in written, to attend the commission several times but they did not attend the meeting. After the commission has completed its report, the bill on the creation of new provinces will be moved to the national assembly within in two days.
In response to a question he said that protest is a constitutional right of everyone but tradition of politics of sit in should not be encouraged, He said that only a few people have objection over Election Commission.

But the government can neither dissolve the ECP on its own and neither can change the Election Commission.

He said that like there is a prescribed way in the constitution article 209 to remove judges of SC and High Courts similarly if any one wishes the same set of rules could be applied to remove the Election Commissioner.

Regarding Interim set up Shah said that the government has started consultation process with not only its allies but also other political parties.
Confirming the government decision to move UN against drone attacks he said that the government wants to protect the country's borders and our sovereignty and we have decided to take up this issue with world largest forum UN.
---
---
Advertisement