PTI poised to form next government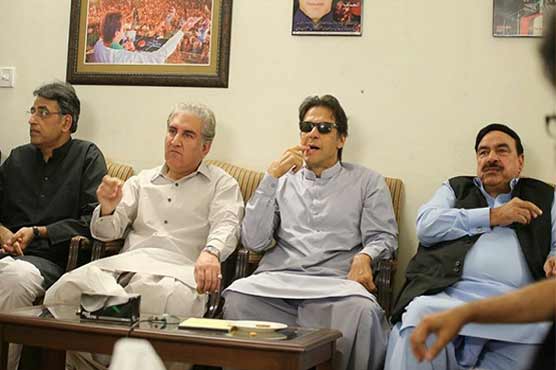 PTI spokesman Fawad Ch says they have the required numbers to form government in center
ISLAMABAD (Dunya News) – Pakistan Tehreek-e-Insaaf (PTI) is poised to form the next government in the center after securing the most number of seats in National Assembly.
A meeting of the PTI leadership was held at Bani Gala with party chairman Imran Khan in chair.
During the meeting, the party leadership assured Imran Khan of having complete numbers to form government in center.
The PTI has secured 118 seats in the National Assembly while Pakistan Muslim League-Quaid (PML-Q), Awami Muslim League (AML), BNP and Balochistan Awami Party (BAP) likely to support PTI after which it would get support of more than 140 members.
Sources said that 12 independent members were also in contact with the PTI leadership, while the members of opposition parties including PML-N, PPP and MMA have total number of 126 members.
Meanwhile, PTI spokesman Fawad Chaudhry said that they have the required numbers to form government in center, adding that the party doesn't need PPP's support.
On the other hand, Naeemul Haq said that they would announce to form government in the next two days.
"The PTI has also decided to change governors of all four provinces after forming government," sources added.
Earlier, according to the data shared by the election commission of Pakistan, PTI has secured 118 seats in the National Assembly followed by PML-N, 63, PPP, 43, independents, 14, Muttahida Majlis-e-Amal, 11, MQM, 6, Pakistan Muslim League-Q, 5 and two each by Balochistan National Party and the Grand Democratic Alliance.
On Wednesday, millions of Pakistanis voted to elect a new government and prime minister in a peaceful elections held in free, fair and transparent manner.
Around 800,000 police and military forces were stationed at more than 85,000 polling stations across the country as the voting took place.
Wednesday's election was only the second democratic transition of power in Pakistan s 70-year coup-studded history.
Pakistan is a country of approximately 207 million people, out of which the number of registered voters are about 106 million. The voting for the Pakistan election, which took place between 8:00 am local time (8:30 am IST) and 6:00 pm (6:30 pm IST), saw more than 3,000 candidates contesting for 272 general seats of the National Assembly, while some 8,000 candidates ran for 577 general seats of the four provincial assemblies - Punjab, Sindh, Khyber Pakhtunkhwa, and Balochistan.