PM Kakar says Nawaz to be treated as per law on return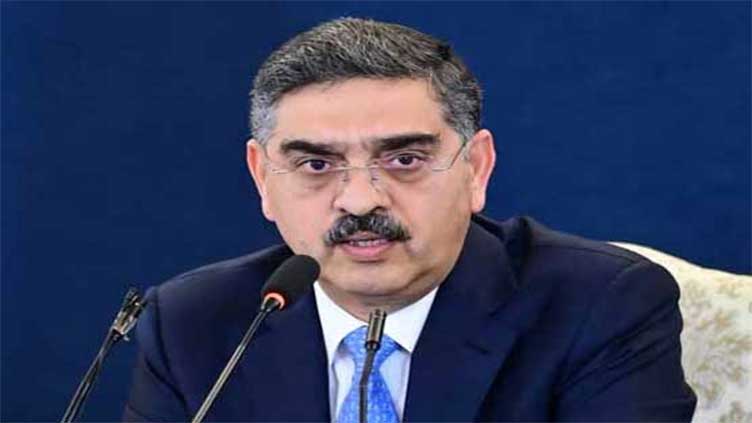 Pakistan
Nawaz to be treated as per law on return, says PM Kakar
LONDON (Dunya News) – Caretaker Prime Minister Anwaarul Haq Kakar has said the caretaker government has no affiliation with any political party and the Election Commission of Pakistan (ECP) will decide the deployment of army for the elections.
Holding a news conference at the Pakistan High Commission in London, the caretaker prime minister said Nawaz Sharif went to London with the permission of the court and he would be treated according to the constitution and law upon his return.
"There are many legal aspects in the return of Nawaz Sharif. Yes, we will take the opinion of the Ministry of Law in this regard and will be doing according to the law," he said.
Kakar said the caretaker government was doing its work within the framework of the constitution and law.
"We do not want to give the impression that we are against any political leadership. The matter of May 9 is in the court and the attack was carried out as per the plan," he said.
"If anyone including me is involved in the events of May 9, they should be punished accordingly. It can also not be accepted that anyone should abuse in the pretext of May 9 events," he said.
"My visit to London should not be given a political colour. There was no meeting with any political leader in London," he added.
The caretaker prime minister said he had no secret knowledge with whom and without whom the elections would be held, the PM said, complaining half of his speech was presented as a lead story couple of days ago.
"If the law allows the PTI chairman to participate in the election, then the caretaker government has no issue with him," Kakar said.
He said all the accused involved in the sale of substandard injection would be arrested.
Kakar said IMF had not put any pressure on the government for privatisation.
"Privatization was part of our economic recovery programme and would privatise all loss-making institutions," he said.
Read more: Fair elections can be held without PTI chief: PM Kakar
Under Hindutva doctrine of India, the land was being narrowed for minorities and special laws were passed against minorities, the PM held. India has been promoting terrorism in the region for decades and is involved in terrorist activities in Baluchistan as well, he concluded.