Published On 15 September,2021 06:08 am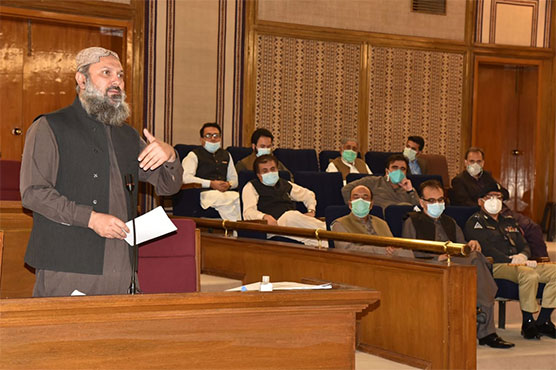 At present, the Balochistan Assembly has 42 members in the ruling coalition and 23 in the opposition
QUETTA (Dunya News) - The opposition will need a simple majority of 33 members of provincial assembly (MPAs) to win the no-confidence motion against the Balochistan Chief Minister Jam Kamal, Dunya News reported on Tuesday.
At present, the Balochistan Assembly has 42 members in the ruling coalition and 23 in the opposition.
Looking at the party position in the Balochistan Assembly, the ruling coalition includes Balochistan Awami Party (BAP), Pakistan Tehreek-e-Insaf (PTI), ANP, BNP (Awami), HDP, JWP and PML-N. The ruling coalition currently consists of 42 assembly members.
On the other hand, opposition alliance consists of JUI-F, Balochistan National Party, Pashtunkhwa Milli Awami Party and Nawab Aslam Raisani, an independent candidate. The total number of opposition members in Balochistan Assembly is 23.
The opposition MPAs of the Balochistan Assembly on Tuesday submitted a no-confidence motion against Chief Minister Jam Kamal.
According to details, a no-confidence motion against the Chief Minister of Balochistan was submitted to the Secretary Balochistan Assembly with the signatures of 16 members of the opposition.
Talking to media after filing no-confidence motion, opposition members said that no-confidence motion has been filed on the basis of four points.
They said that he(Jam Kamal) has no right to rule over the performance of the provincial government during the last three years. In the current situation, everyone in the province wants to overthrow this government adding Balochistan is facing worst kind of corruption and looting.
Opposition members, referring to the motion, said that they had the required number for the success of the no-confidence motion and would not reveal the required number at present.
Opposition leaders Malik Sikandar, Sana Baloch, Nasrullah Zairy, Asghar Tareen, Zabid Reiki, Younis Aziz Zehri, Akhtar Lango, Malik Naseer Shahwani and others are among the 16 opposition members who have signed the no-confidence motion.