Published On 11 December,2020 03:09 pm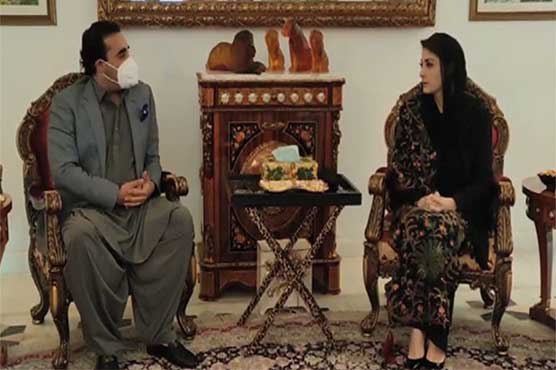 Bilawal Bhutto, Maryam Nawaz discuss PDM's anti-govt rally in Lahore
LAHORE (Dunya News) – Pakistan People's Party (PPP) chairman Bilawal Bhutto Zardari on Friday has met Pakistan Muslim League-Nawaz (PML-N) vice president Maryam Nawaz in Jati Umra in Lahore.
According to details, the PPP chairman offered condolences to PML-N vice president over the death of her grandmother Begum Shamim Akhtar.
Both the leaders discussed matters related to arrangements of Pakistan Democratic Movement (PDM) rally in Lahore and resignations of opposition's lawmakers from provincial and national assemblies.
They also deliberated upon the ongoing political situation in the country.
Earlier, Maryam Nawaz had criticized Prime Minister (PM) Imran Khan and said that don't take our revenge from the innocent people.
While reacting to the registration of a case against the owner of the hotel where she and other PML-N leaders had eaten food, Maryam Nawaz said that the incumbent government of Pakistan Tehreek-e-insaf (PTI) has crossed all the limits.
First, tent service and now hotel owner, the federation has lost its senses, she added.
The PML-N leader further said that the people of Lahore will come out of their houses on December 13 against such acts of the PTI government.