Last Updated On 14 April,2019 10:47 pm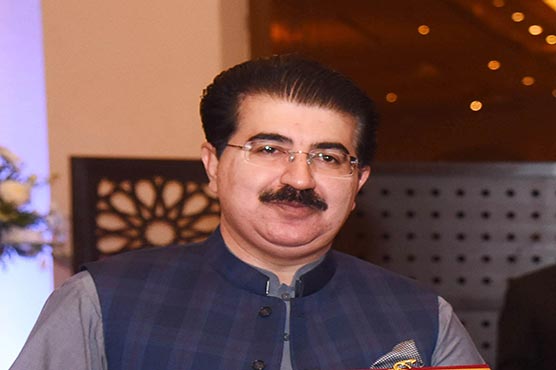 The Senate chairman said Pakistan had succeeded to a great extent to win the war against terror.
ISLAMABAD (APP) – Senate Chairman Muhammad Sadiq Sanjrani on Sunday said Islam was a peaceful religion and linking it with terrorism and extremism was wrong.
Addressing the 'Fourth Paigham-e-Islam' Conference as chief guest, he said that linking Islam with such trends is a well-thought-out plot as Islam only stands for peace and forbearance.
The conference was organized by Pakistan Ulema Council here at the Jinnah Convention Centre.
Sanjrani said interfaith harmony and dialogue could play a pivotal role in solving the problems being faced by Islamic world. "The history of Islam is full of different lessons of religious harmony. The Charter of Medina gave the idea of the first human society, which was based on religious harmony," he added.
He said creation of Pakistan was the result of matchless sacrifices of 'Shuhada' (martyrs), who wanted to have a state that could act according to the Islamic principles. "This was the same passion which gave us courage and strength to play a key role to eliminate terrorism and extremism from our country," he said.
The Senate chairman said Pakistan had succeeded to a great extent to win the war against the evil of terrorism while at the same time it had also been able to successfully safeguard its frontiers. "The war against the twin evils of terrorism and extremism is not only the government or parliament's duty but the entire nation need to get united for that. It is also imperative that we follow the existing laws in letter and spirit to root out the scourge of terrorism," he added.
He said Pakistan had been playing its role with full responsibility to promote interfaith harmony at all international platforms. He said in 2013, Asian Parliamentary Assembly meeting, held in Islamabad, unanimously passed a resolution presented by Pakistan for promoting interfaith harmony. Similarly, in 2018, the United Nations' General Assembly passed with consensus a Pakistan backed resolution for promoting interfaith harmony.
Referring to some recent terrorist incidents in the world, he said the incidents had proven the Muslim Ummah's stance true that terrorism was not linked to any specific religion or it had no religion.
He said Pakistan would keep on playing its role for promoting unity among the Muslim Ummah. He said the Ummah itself was facing the challenges of aggression, terrorism and biasness at a large extent. He also lauded the Pakistan Ulema Council for successfully organizing the conference.