Won't be the president of PTI, rather all parties and nation: Arif Alvi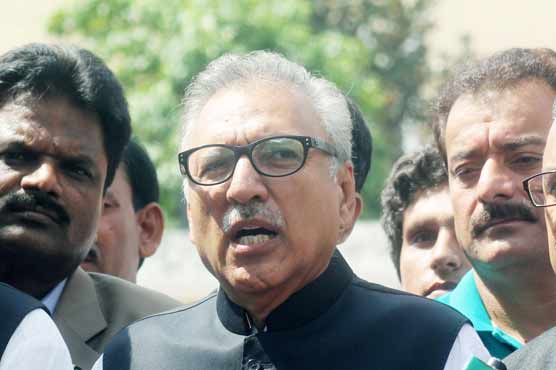 The newly-elected president of Pakistan will take oath on September 9
ISLAMABAD (Dunya News) – Newly-elected Pakistan's 13th President Dr Arif Alvi on Tuesday said that he will try to deliver his best as the head of the state.
Talking to media after being elected as the President of Pakistan, he said that he was thankful to Allah Almighty that the PTI nominee was elected as the president.
The PTI leader also thanked Prime Minister Imran Khan for reposing his confidence in him.
Alvi vowed to work as the president in an improved way, adding, "I am not just a president of one party, rather of all political parties and the nation."
Earlier, he had pledged to resolve the issues constitutionally after winning the polls, adding, "I don't want to become a silent president."
On the other hand, voting for presidential election started at 10am at NA, Senate and all the provincial assemblies and continued till 4pm.
Apart from PTI's Alvi, the PPP's Aitzaz Ahsan and Jamiat-e-Ulema (F) chief Maulana Fazalur Rehman were in the race. The joint Opposition was to field a single candidate, however, no consensus had been reached on a joint Opposition nominee.
The newly-elected president of Pakistan will take oath on September 9.