Imran Khan's Struggle: From Cornered Tiger to Prime Minister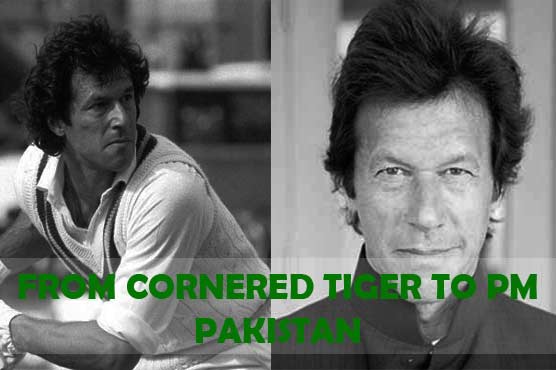 Imran Khan's life is an epitome of the fact that with great struggle comes realization of big dream
(WebDesk) – Like all great stories, of Imran Khan's is one of highs and lows with a fairytale ending or so it seems that way.
Throughout history, it has been seen that the ones who actually end up changing the bigger picture of the world around us are the ones who are termed as the society's misfits or often as the crazy ones. But eventually they end up achieving the impossible, becoming heroes and legends in the process.
The world has already given us the examples of people like Steve Jobs, Abdul Sattar Eidhi, Bill Gates, Stephen Hawkings, Quaid e Azam Muhammad Ali Jinnah and now possibly Pakistan's much ceebrated sports celebrity, Imran Khan. Imran Khan after a struggle of 22 years have achieved the target, Imran Khan became 22nd Prime Minister of Pakistan.
Also Read: Imran Khan elected Pakistan s 22nd Prime Minister
People often forget the struggle behind the success and think that greats are born overnight. However, if one closely study world history, one finds out that, that certainly is not the case.
---
Similarly, to get where he is today, Imran Khan has seen all the highs and lows possible in one's life.
---
From winning the World Cup in 1992 against all odds, to roaming the streets of Pakistan to collect funds for his Cancer Hospital and to facing criticism against his dream project. From forming his own political party, to securing only one seat in the General Elections. From crying against injustice to becoming the head of the 3rd largest party and now all set to achieve his lifelong dream of becoming the Prime Minister of Pakistan.
Yes, this guy has not only seen it all but done it all, or at least some would think that way.
On the historic day when the PTI chief is set to be voted as Pakistan's newest number one, let us have a detailed look at the struggle that made Imran Khan what he is today.
1992: The Year of the Cornered Tigers
The year 1992 eventually became one of the most remembered years for Pakistan because a rejuvenated cricket team under the captaincy of the charismatic Imran Khan went onto achieving what seemed to be the impossible; becoming World Champions.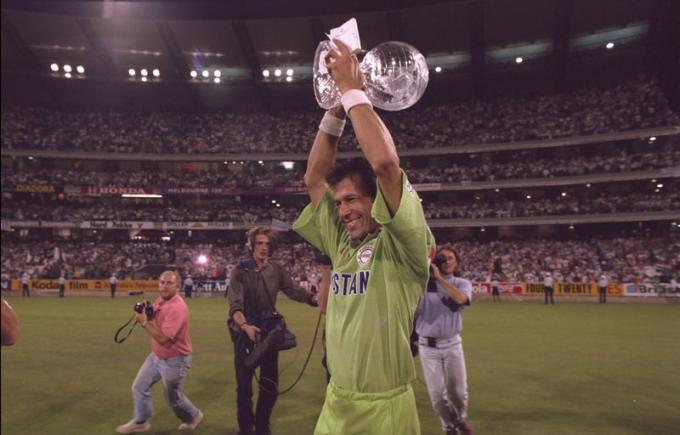 Imran Khan became the only Pakistani captain to lead his team to the World Cup triumph. Photo: File
---
Prior to the start of the World Cup, no one gave Pakistan even the slimmest of chances but captain Imran Khan had a bigger purpose in mind; gifting his nation with the coveted prize in the shape of the World Cup and using the prize money to build a state of the art Cancer Hospital.
After winning the coveted trophy, the members of the legendary winning team including the likes of Wasim Akram, Inzimam Ul Haq, Ramiz Raja and Javed Miandad were all of the view that if it hadn't been for the hope and rejuvenation instilled in the team by Imran, the team wouldn't have ended up lifting the trophy.
---

By the Semis, the Cornered Tigers were so confident that their dressing rooms would often echo with the tunes of "Yay Cup Humara Hai, Isnay Hamay Pukara Hay"

---
Also Read: Sidhu praises defiant Imran Khan on arrival in Pakistan
1994: The Realization of A Bigger Dream
After having been criticised countless times and being played down by the so called expert doctors and financial analysts, the Shuakat Khanum Cancer Hospital was inaugurated by Imran Khan on December 29th 1994 with the aim of treating the poor patients with state of the art treatment that was not only unlike any other but also free of cost.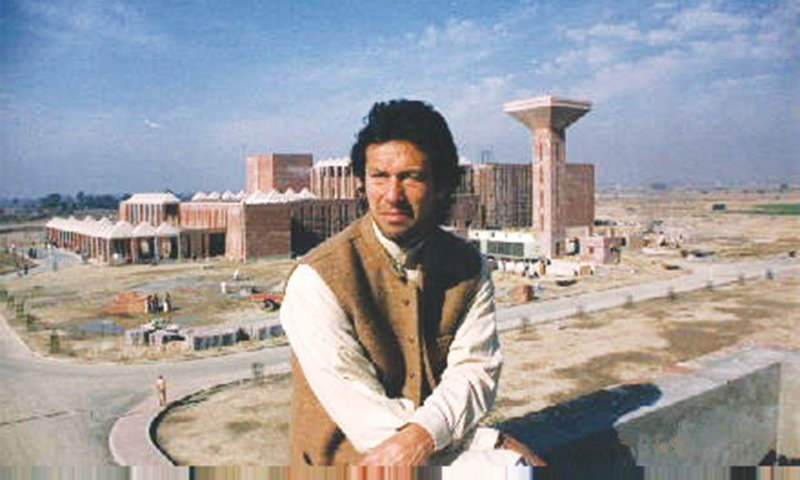 Despite severe criticism, Imran Khan successfully built the cancer hospital that still treats millions today. Photo: Facebook
---
Almost 24 years later, Imran Khan, with the help of the passionate people of Pakistan, has successfully inaugurated another branch in Peshawar with one being constructed in Karachi.
1996: The Beginning of A New Struggle
With one of his biggest dreams finally becoming a reality, Imran dreamed once more, this time bigger and broader. Now, however, Imran shifted his approach from sports and social work to seeking real change through politics.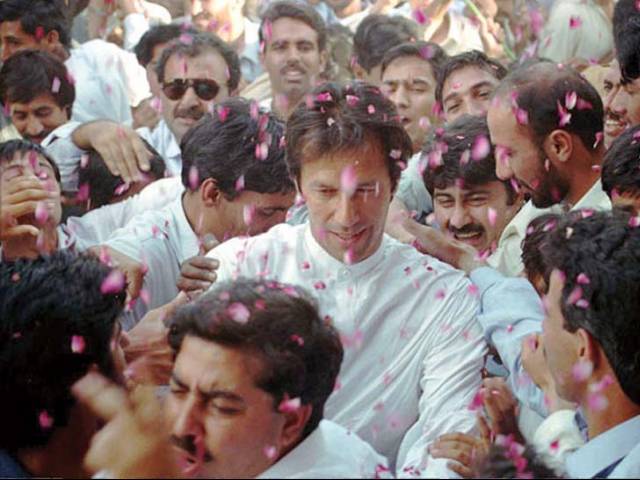 The sportsman turned politician in 1996 to seek true change. Photo: PTI
---
On 25th April 1996, Imran Khan laid the foundation of the dream of a "Naya Pakistan" by forming his own political party, the Pakistan Tehreek e Insaf (Pakistan's movement for Justice).
2002: The Unforgiving Reality
The Pakistan Tehreek e Insaf decided to constitutionally fight against the status quo by fielding their candidates in Pakistan's General Elections of 2002. Reality eventually shook Imran Khan as he finally faced a major setback; the PTI could only bag one seat.
---

The one seat that was won by PTI was Imran Khan's own when he contested from his hometown, Mianwali

---
2008: The Boycott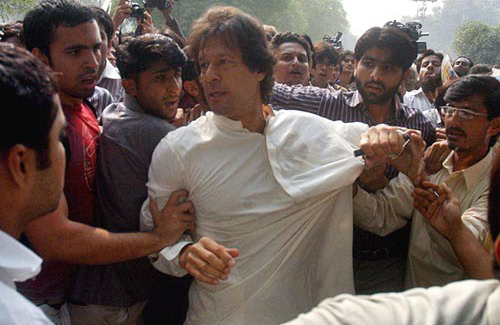 Imran boycotted the elections of 2008 on grounds of corruption. Photo: Online
---
The year 2008 saw Imran Khan commit what is often termed by experts as his 'gravest mistake' when he and his party members decided collectively to boycott 2008's General Elections. Imran took this decision on moral grounds because he had concluded that an elected parliament had little to no meaning under a president (Pervez Musharraf) in military uniform.
2011: Tsunami Sweeps Lahore
In all honesty, after having been degraded, beaten, humiliated and defeated consecutively for more than 15 years any sane man would have at least considered the option of quitting for good but as Imran Khan showed, true and great leaders are built solely on perseverance and patience especially in the dark times.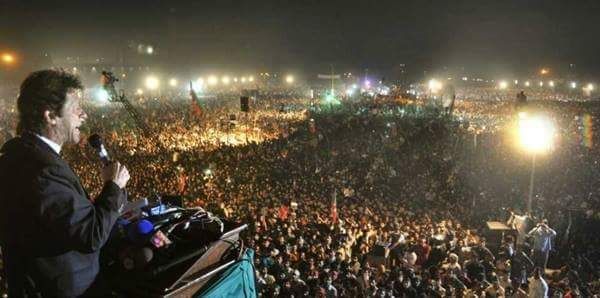 A Tsunami of PTI supporters gathered at Minar e Pakistan Lahore. Photo: File
---
The Pakistan Tehreek e Insaf showed its true colors in October of 2011 when Imran Khan managed to gather thousands of charged, politically frustrated and change-hungry youngsters, men, women and children in a historical Jalsa at Minar e Pakistan, Lahore.
---

The PTI's 'Tsunami' officially announced itself as a political powerhouse as it completely swept the city of Lahore off its feet

---
In his historic address, the PTI chief warned politicians to declare their assets or his party would launch a civil disobedience movement against them. Speaking on issues plaguing the country, Khan said that his party would stand with minorities and work for the rights of women. He further said that the PTI would also give the Baloch their rights and "not colonize them."
2013: Naya Khyber Pakhtunkhwa?
2013 was the year that saw the Pakistan Tehreek e Insaf officially become one of the most prominent threats to the Nawaz-Zardari power share that had taken Pakistan in a totally grim scenario.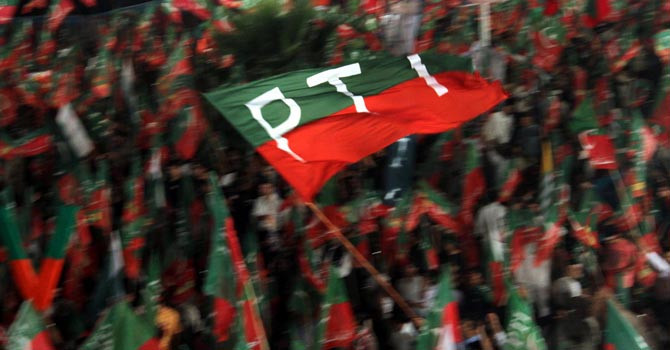 PTI were tipped to give a tough time to Nawaz Sharif and co in 2013 polls. Photo: File
---
Imran Khan led a very impressive election campaign up to 11 May – the polling day, by addressing hundreds of crowd pulling public gatherings all over the country.
---

Analysts and supporters alike expected Khan's PTI to bag at least over 50 seats but that wasn't to be as Imran Khan's party could only claim 35 seats

---
Having said that, however, the PTI was able to form a coalition government in Khyber Pakhtunkhwa, one of the most unstable provinces of the country.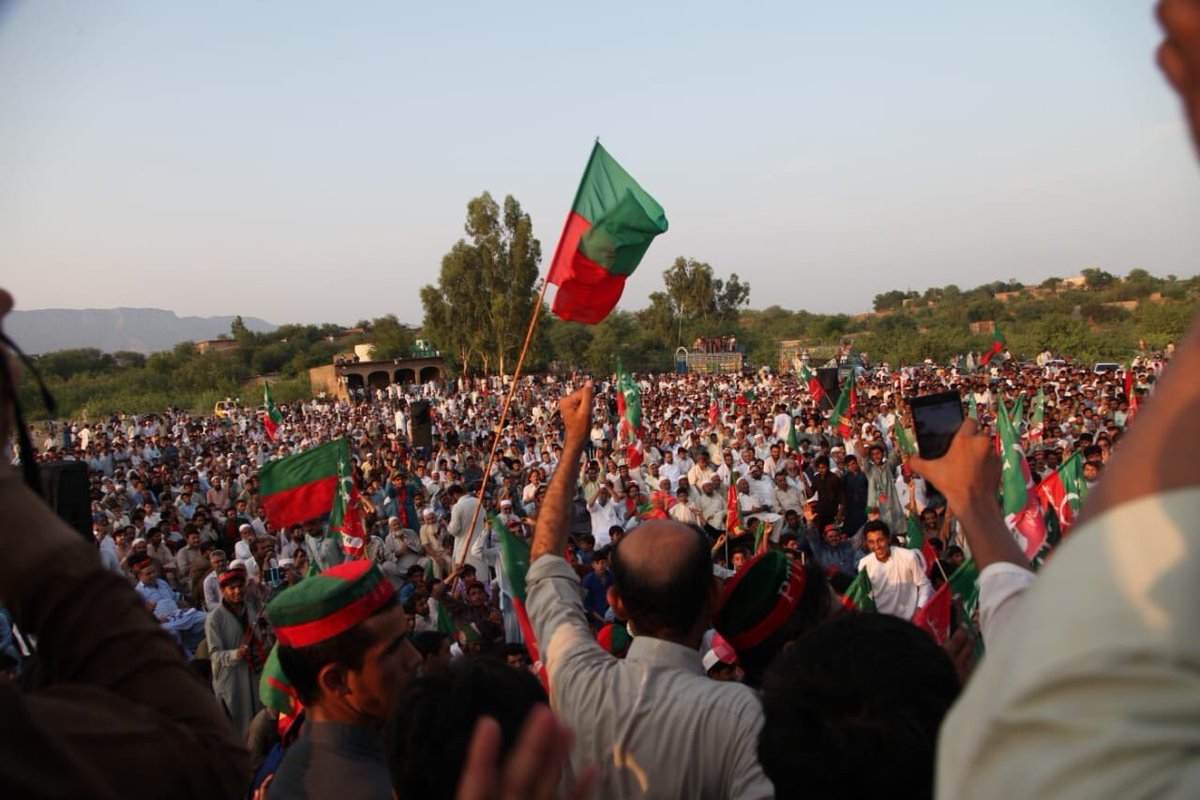 PTI managed to form government in KPK despite claims of nationwide rigging. Photo: Twitter
---
Even though Imran blamed Nawaz Sharif's PML N for conducting massive nationwide rigging, he decided to make the province of KP a model for all to follow; terming it as "Naya KPK"
2014: Nationwide Movement Against Massive Rigging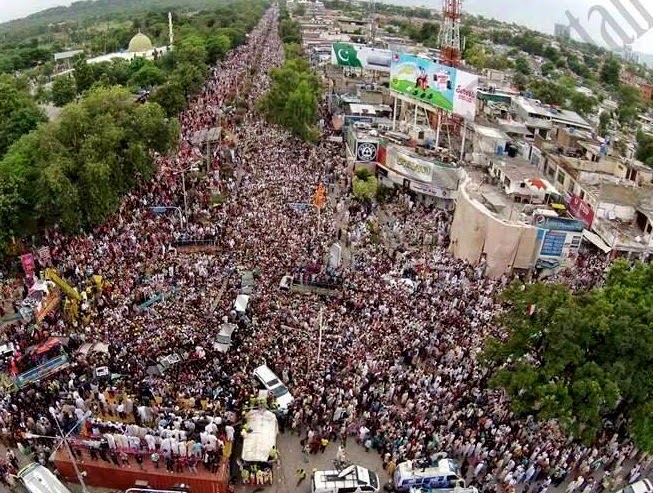 The PTI held a 126 day long dharna against rigging. Photo: File
---
If his opponents thought Imran was down and out, they were very very wrong. The alleged massive rigging in the 2013 elections gave Imran a new opportunity to rise as Pakistan's most prominent leaders as he held an unprecedented, record breaking 126-day long 'Dharna', a movement against injustice supported by millions of his followers from all over Pakistan.
Also Read: PTI to hold sit-in on Kashmir Highway
2017: Panama 'Hungama', Avenfield Verdict Rattle Sharifs
Imran Khan filed petition against then Premier Nawaz Sharif in the Panama Offshore Company Scandal.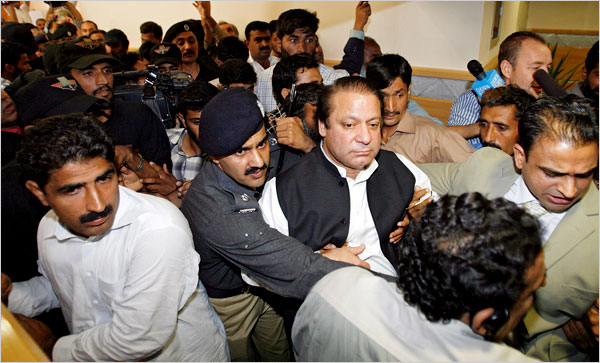 Nawaz Sharif was setenced to 10 years in Jail. Photo: File
---
Also Read: Nawaz Sharif sentenced to 10 years in jail, Maryam 7 years in Avenfield reference
After months of thorough investigation and probing PML N's Mian Muhammad Nawaz Sharif was not only banned from PM-ship and contesting the elections but was eventually sentenced to 10 years in Jail along with his daughter Maryam Nawaz who is to spend 7 years behind bars.
2018: The Dawn of Imran's Naya Pakistan
July 25th 2018 saw the dawn of Naya Pakistan as PTI's 22-year struggle finally bore fruit when the party claimed over a 100 seats in the General Elections and became Pakistan's most prominent and dominant political party.
Also Read: Pakistan Election 2018: ECP releases final results, PTI tops with 116 seats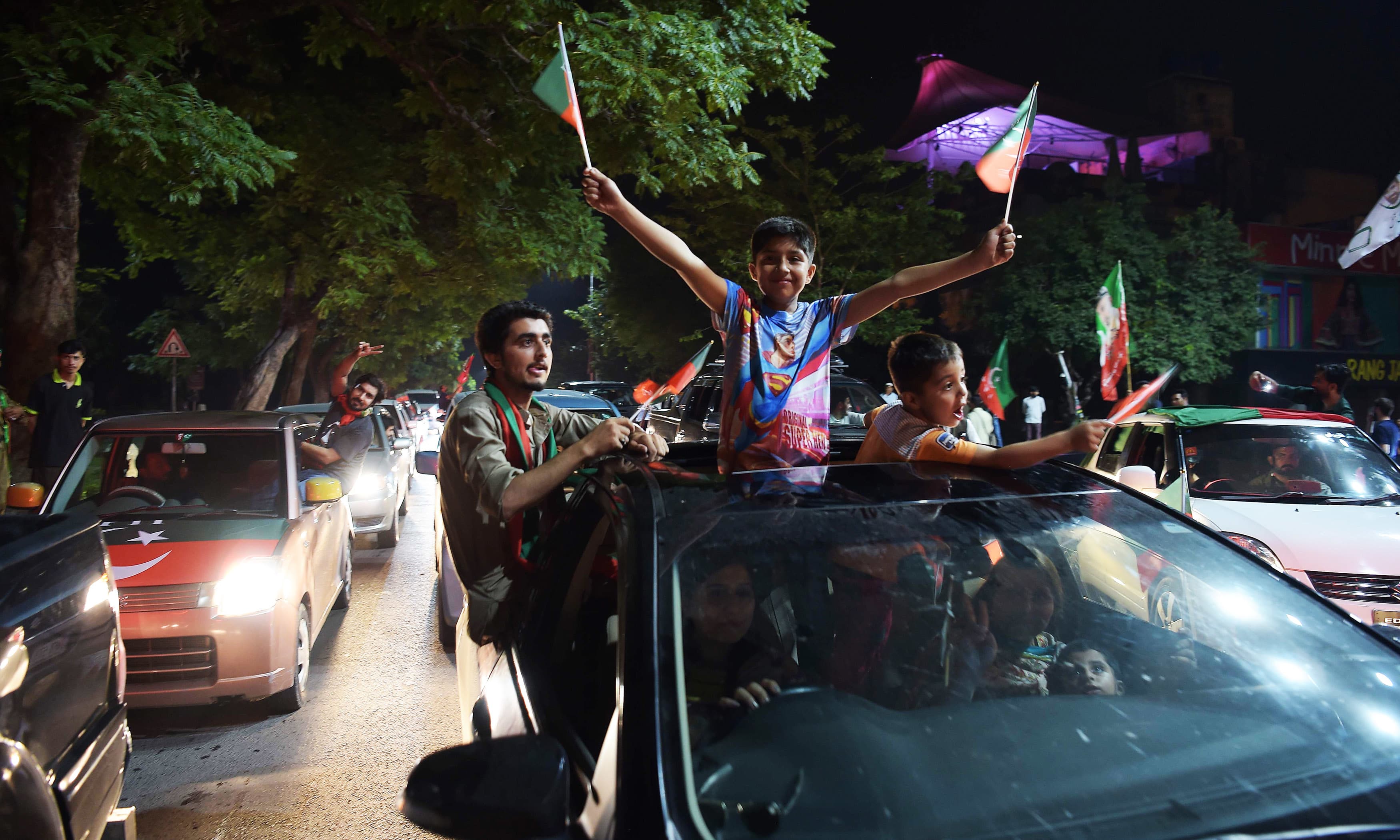 Supporters flooded the streets following the victory of PTI. Photo: Online
---
Imran Khan finally saw his dream come true once again with the PTI claiming majority.
---

Today, Imran Khan is all set to be voted as Pakistan's 22nd Prime Minister confirming the fact that dreams do come true!

---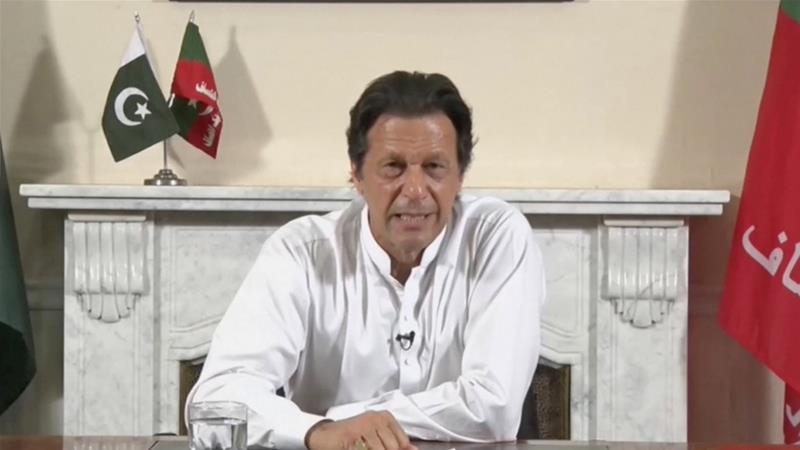 Imran Khan addresses to the nation following election victory. Photo: File
---
Also Read: Imran Khan says ready to probe oppositions rigging allegations
Imran's struggle is a clear indication of one thing and one thing only; dreams can only come true if you keep on chasing them but it's not easy, it will take time but you have remain steadfast especially in times of difficulty.
By: Raacikh Asghar