Last Updated On 18 June,2018 04:53 pm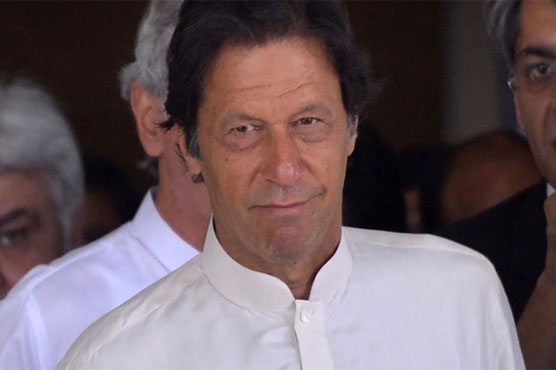 Objections have been raised on his nomination papers for the constituencies in Lahore and Islamabad.
ISLAMABAD (Dunya News) - The Returning Officer (RO) on Monday summoned Pakistan Tehreek-i-Insaf (PTI) leader Imran Khan on June 19 following the objections on his nomination papers for NA-131 constituency of Lahore.
"All the candidates have been summoned in personal capacity therefore; Khan also have to attend the heaR ing himself," said the RO.
"He cannot attend the hearing tomorrow. Kindly issue another date," replied PTI member Shoaib Siddiqui. "Tomorrow is the last day of scrutiny. Imran should appear in personal capacity to avoid any untowrd interference," the RO said.
The assistant of advocate Babar Awan also appeared before the RO to represent Imran Khan on the objections raised over his nomination papers for NA-53 constituency of Islamabad.
Rai Tajammul while representing Khan in place of Babar Awan submitted a written reply over the objections raised on his candidacy. "There is neither any truth in the accusations nor any witness against me. The documents and newspaper clips are based on lie," says the reply.
Other politicians contesting from NA-53 include PML-N's Barrister Zafarullah, Mehtab Abbasi and PTI's Ilyas Meherbaan among others.
On the other hand, Khan's nomination forms for Mianwali's NA-95 constituency are under objection due to the Sita White case by candidate Abdul Wahab Baloch. The plea says that Khan has not remained 'Sadiq' and 'Ameen' in the case.
He does not fulfill the demand of article 62 and 63 therefore; his nomination papers should be rejected, it added.
Election Commission of Pakistan (ECP) will complete the process of scrutiny of nomination papers filed by candidates for upcoming general elections on Tuesday.
A total of 21,482 nomination papers have been filed across the country for national and provincial assemblies.
Know More: ECP scrutiny cell provides details of candidates to ROs
As many as 6063 candidates are contesting for 342 seats of the National Assembly while 15419 nomination papers have been filed for the provincial assemblies seats.
As per the election schedule, appeals against rejection or acceptance of nomination papers can be filed by June 22.
The appellate tribunals will decide the appeals by June 27, after which the revised list of candidates will be published on June 28.
Also Read: ECP forms 20 tribunals to hear cases related to nomination papers
Candidates can withdraw their nomination papers by June 29 and the electoral body will announce the final list of candidates the same day.
Electoral symbols will be issued to candidates on June 30 while polling will be held on July 25.