Last Updated On 02 June,2018 12:09 pm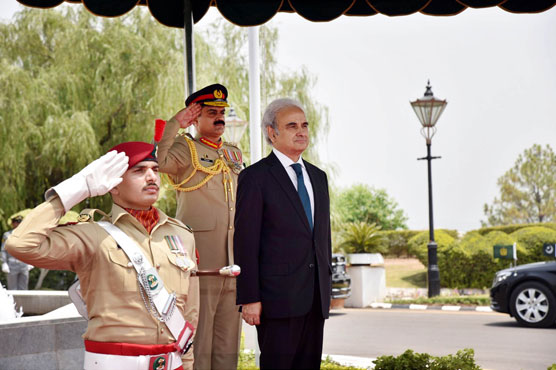 Size of federal cabinet would be small
ISLAMAABD (Dunya News) – Caretaker Prime Minister Nasirul Mulk has said holding of transparent elections is his top and foremost priority.
Talking to media in Islamabad after taking oath, he said the elections will be held on time, adding that he will work according to the mandate given to him.
"The size of federal cabinet would be small," he said and added today is my first day at job and I have started work right away.
Meanwhile, Principal Secretary to Prime Minister Fawad Hassan Fawad has been transferred.
According to notification issued by the Establishment Division, Fawad Hassan Fawad, BS-22, official has been transferred and posted at Director General Civil Services Academy Lahore.
On other hand Suhail Aamir will replace Fawad Hassan Fawad as Principal Secretary to Prime Minister.
Read Also: Justice (retd) Nasir-ul-Mulk sworn in as caretaker PM
Earlier, former Chief Justice of Pakistan (CJP) Justice (r) Nasirul Mulk had taken oath as caretaker Prime Minister (PM).
President Mamnoon Hussain administered the oath to Nasir-ul-Mulk amid presence of higher government officials including outgoing Prime Minister Shahid Khaqan Abbasi. He was also presented Guard of Honor at the end of the ceremony.
Justice Nasirul Mulk was born on August 17, 1950 in Mingora, Swat. He completed his degree of Bar-at-Law from Inner Temple London and was called to the Bar in 1977.
The now-retired Mulk practiced as an advocate in all fields of law for more than 17 years until his elevation as a judge of the Peshawar High Court. He remained PHC chief justice for some time before his elevation as a judge of the Supreme Court.
He is remembered for the way he conducted a contempt case against then prime minister Yousuf Raza Gilani.