MQM-P vows to fail every effort aimed at removing mayor, opp leader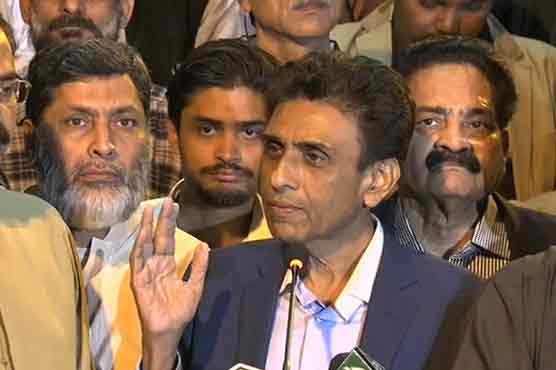 Siddiqui says MQM-P has maintained 85 percent of mandate in urban areas for the last 30 years
KARACHI (Dunya News) – Muttahida Qaumi Movement-Pakistan (MQM-P) Bahadurabad faction convener Dr Khalid Maqbool Siddiqui on Thursday said that every conspiracy to remove Leader of Opposition in Sindh Assembly and Karachi Mayor would be foiled.
Addressing a press conference at temporary MQM-P center, he said that MQM-P has never been accused of corruption, adding that the government will complete its tenure next month after which all political parties would enter the process of elections.
"MQM-P has maintained 85 percent of mandate in urban areas for the last 30 years," Maqbool said and added if anyone wants to bring change in the city, they will have to win hearts of the people.
Siddiqui went on to say that the MQM-P has always been against feudalism, adding that his party members were forced to change their loyalities.
He said: "MQM-P doesn't exit only because it has representation in the House but it is existing in the hearts of the people." "People of Sindh should not worry about the propoganda against the MQM-P."