Last Updated On 06 April,2018 07:31 pm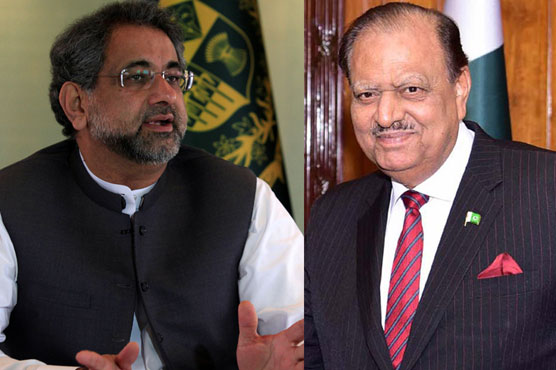 They termed recent killings by Indian forces in held valley as aggressive and mindless act.
ISLAMABAD (Dunya News) – Prime Minister Shahid Khaqan Abbasi and President Mamnoon Hussain on Friday reaffirmed Pakistan s continued and resolute moral, diplomatic and political support to the oppressed people of Indian Occupied Kashmir in their valiant struggle for the fundamental right to self determination.
In their separate messages on Kashmir Solidarity Day on Friday, they termed the recent killing spree by the Indian security forces in held valley as aggressive and mindless act.
---
PM's Message
---

PM Abbasi in his message urged the world powers to raise their voice in seeking an end to the gross violations of human rights and the reign of terror unleashed by Indian occupation forces in IoK, and fulfill the promises it made with the people of Jammu and Kashmir 70 years ago.
The prime minister said it was high time that India was asked to provide access to the Office of the United Nations High Commissioner for Human Rights (OHCHR) and the Independent Permanent Human Rights Commission (IPHRC) Fact Finding Missions to investigate the human rights violations by the Indian occupation forces.
Abbasi said that the Jammu and Kashmir dispute was the unfinished agenda of partition of the subcontinent and remains one of the oldest disputes on the agenda of UN Security Council.
Pakistan strongly condemns the systematic State terrorism and brutal killings of the people of Occupied Kashmir by Indian forces, he added.
The premier went on to say that Islamabad will continue to extend its political, moral and diplomatic support to the Kashmiri people.
---
President's Message
---

Meanwhile, President Mamnoon Hussain in his message called upon the international community to be cognizant of its responsibilities in the matter and urge India to facilitate the visit of independent Fact Finding teams of OHCHR and IPHRC to look into the gross human rights violations in IoK being perpetrated by Indian occupation forces and to fulfill its obligations under UN Security Council resolutions on Kashmir.
He said the people of Occupied Kashmir, in their historic struggle, have rendered huge sacrifices and the Indian state terrorism has failed to deter them from their struggle for freedom.