Last Updated On 17 March,2018 08:06 pm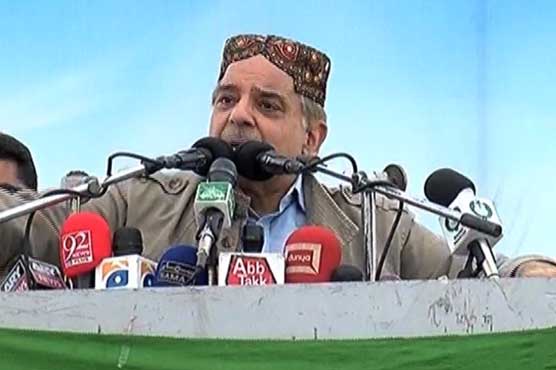 Punjab Chief Minister Shehbaz Sharif addressed a political rally in Dera Ghazi Khan today.
DERA GHAZI KHAN (Dunya News) – Punjab Chief Minister (CM) Shehbaz Sharif has appealed to Chief Justice of Pakistan (CJP) Mian Saqib Nisar on Saturday to direct for a 17-member Supreme Court (SC) bench to look into corruption allegations leveled by opposition party leader Imran Khan over Multan metro bus project, an initiative of the Government of Punjab.
Punjab CM addressed a political rally in Dera Ghazi Khan today and in his speech he said that politics was not Pakistan Tehreek-e-Insaf (PTI) chairman Imran Khan's cup of tea and that a top court bench should probe his allegations.
He claimed that federally ruling Pakistan Muslim League-Nawaz (PML-N) would sweep in the upcoming General Elections 2018. People's verdict in the elections would let it be known that which political organisation worked for their development and which one wasted time with empty rhetoric.
Shehbaz alleged Imran Khan and former president Asif Ali Zardari to have cut a deal with each other to not criticise each other's provincial governments in Sindh and Khyber Pakhtunkhwa (KP). Punjab chief minister reiterated that he would quit politics if corruption worth a penny is proved against him.
He alleged the previous governments of having neglected development of South Punjab.
He asserted that the government of PML-N in Punjab after General Elections 2013 worked day and night for the people of South Punjab whether it was floods or storms.
He refuted opposition's allegations of not coming true to his promises and invited opposition leaders to visit Dera Ghazi Khan to see for themselves that schools and hospital were erected for the people.
He also asserted to have spent funds belonging to the impoverish people with utmost honesty.