In a first, Punjab passes Sikh marriage law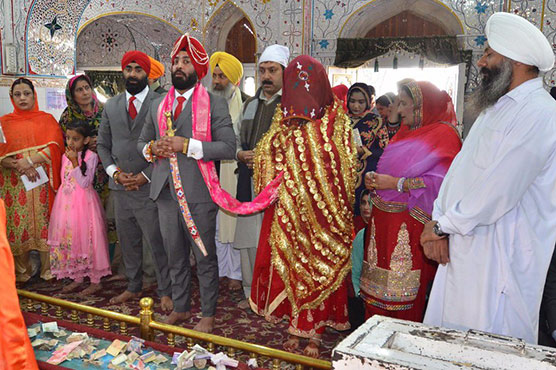 The law marks a historical monument for the rights of minorities in the country. Photo: APP
(Dunya News) – Pakistan has become the first country in the world to legislate on the registration of Sikh marriages.
Punjab Assembly enacted the Punjab Sikhs Anand Karaj Marriages Act making it the first private member bill to have been passed during the ongoing parliamentary years of the Punjab government.
The bill that is to regulate matters of Sikh marriages was passed unanimously by the Punjab Assembly.
The law marks a historical monument for the rights of minorities in the country. In India too, there is no separate law to register Sikh marriages, which are registered legally under the Hindu Marriages Act.
According to the bill, marriage of a Sikh boy or a Sikh girl under the age of 18 will not be registered.
For the marriage to be registered, it should include the Four Rounds in the presence of the Guru Granth Sahib.
A dedicated registrar will be appointed under the law while registration certificates for marriages would also be issued.
For more on this, watch a report by Dunya News below.
---
---