FATA reforms bill: Opposition continues walk-out in NA sessions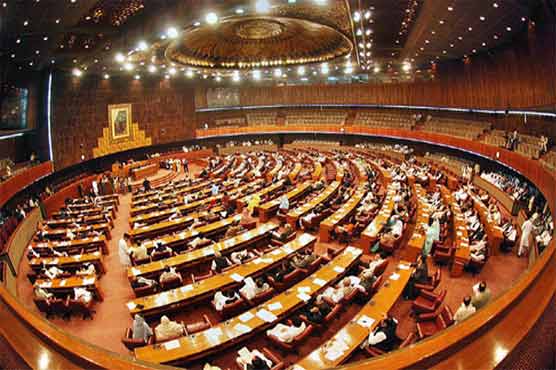 Opposition leader Khurshid Shah walked-out of the Senate session
ISLAMABAD (Dunya News) – Opposition members demonstrated a walk-out in the National Assembly (NA) on Wednesday after FATA Reforms Bill 2017 was not presented in the session today again.
NA Speaker Ayaz Sadiq expressed resentment towards Federally Administered Tribal Areas (FATA) Secretariat for delay in presentation of the bill following which MNA concerned Abdul Qadir Baloch assured that the draft was near completion and would be presented in Thursday's session.
Speaker Ayaz Sadiq complained that the secretariat has no regard for the parliament. He demanded off the minister to take action against the secretary concerned or he would recommend presenting privileged motion on behalf of the Senate.
The speaker has directed to continue the sessions until the bill is put forth. Reportedly, a supplementary agenda would be added after Jamiat Ulema-e-Islam-Fazl (JUI-F) chief Fazlur Rehman's agreement.
During the session, MNA belonging to FATA, Shah Jee Gul Afridi complained that the members were told that the bill was to be presented today.
---
The committee formed in December
---
Earlier this month, opposition parties formed a parliamentary committee to hold talks with the PMLN-led government over the issue FATA reforms bill.
The committee was formed during a meeting between opposition leader in the National Assembly Syed Khurshid Shah and leaders of the opposition parties.
The committee comprises Aijaz Jakhrani, Farhatullah Babar, Sirajul Haq, Sahibzada Tariqullah, Mian Attique, Sheikh Salahuddin and Haji Shah Gull Afridi while Pakistan Tehreek-e-Insaf (PTI) will nominate two members after consultation with Imran Khan.