Quick march before March: Sh Rasheed says NA speaker started speaking truth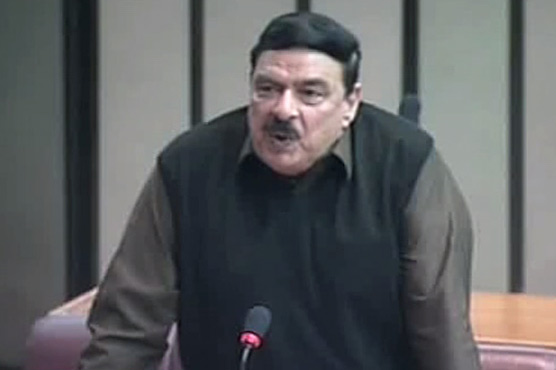 Responding to Ayaz Sadiq's statement, he hinted that the government will not complete its tenure
RAWALPINDI (Dunya News) – Responding to the statement of Ayaz Sadiq that the assembly may not complete its term, Awami Muslim League head Sheikh Rasheed said there will be a quick march before the month of March next year.
Sheikh Rasheed said that the speaker of National Assembly (NA) has finally started speaking the truth, adding that he has finally realised the facts.
"I said it long ago and they're getting it now. The tenure of these leaders has ended," he added.
He criticised the government over the issues of FATA reforms and devaluation of the rupees in comparison with dollar.
---
READ: Feeling light after giving statement about govt's tenure: Ayaz Sadiq
---
On the other hand, Pakistan Tehreek-e-Insaf (PTI) spokesperson advised the NA speaker to resign from his position in order to eliminate the guilt.
Don't be afraid. Snap elections are important for democracy," he said while referring to Sadiq, stressing that he became the custodian of Jati Umra rather than that of the parliament.
He opined that there is a political vacuum for which the federal government is limited to the Ministry of Finance. Fawad Chaudhry claimed that the Ministries of Interior and Foreign Affairs are run by other institutions.
"Those who make big claims in the rallies should remember that the real test is election," he added.
Ayaz Sadiq had expressed the possibility that the assembly will not complete its specified term, saying, "I can foresee a greater plan. Maybe some people prefer to resign as they do not want senate elections to be held in March. This is a depressing situation. I was not this much upset in 2002 during Musharraf's tenure as I am now."
He said in an interview that the country will undergo a change but it will not be in its benefit, hoping that the government will complete its term while fearing that the political situation of the country from the past three months shows the opposite.