Last Updated On 23 November,2017 11:43 pm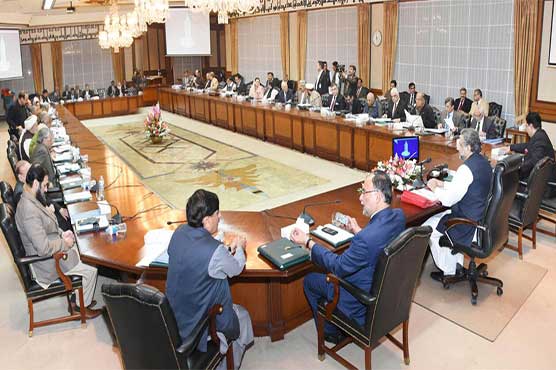 The committee has permitted the health ministry to further highlight the warnings on cigarette packs
ISLAMABAD (Dunya News) – Prime Minister (PM) Shahid Khaqan Abbasi presided over a meeting of the federal cabinet on Thursday and approved to begin political consultation with Denmark and Republic of Slovakia.
The meeting today witnessed a go-ahead to a number of developments. The cabinet approved appointment of a financial advisor for Pakistan Ordinance Factory Board and that of Rehmatullah as a member of Nepra from Balochistan.
The cabinet permitted former navy chief Admiral (r) Zakaullah to accept Shah Abdul Aziz Medal of Excellence and the highest Malaysian armed forces award.
The meeting presided by PM Abbasi also permitted former ambassador of Pakistan to Palestine Zamir Akram to accept Star of Merit award from the host government. The meeting approved forming a board of directors for National Energy Efficiency And Conservation Authority.
The cabinet committee has permitted the health ministry to further highlight the warnings on cigarette packs.