Last Updated On 22 November,2017 10:13 am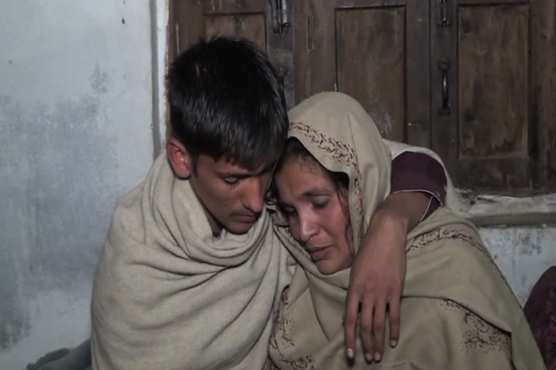 Haider Ali, the only survivor, was among the twenty men traveling illegally with a hope for a bright future in Europe. Photo: Dunya News
(Dunya News) – Twenty young Pakistanis were found dead in Balochistan's Turbat region while trying to travel illegally to Europe. Among those illegal passengers was Haider Ali, a resident of Sialkot, who came face to face with death but managed to escape alive.
Haider Ali, the only survivor, was among the twenty men traveling illegally with a hope for a bright future in Europe.
Now that he survived, Ali has returned home to his mother. An emotional reunion was witnessed as the mother and son greeted each other with a strong embrace.
According to Ali, the car that became the target of terrorists was ahead of the car in which he was travelling. As soon as they heard firing, Ali and one of his friends ran away from the terrorists and continued running all through the night.
Usman Anwar, Punjab's DG FIA has stated that there are eight other people that are still missing who were trying to cross borders between Pakistan and Iran to make their way to Europe. The authorities are still searching for them.
According to Anwar, the people involved in human trafficking have been apprehended, and soon other smugglers operating in Iran, Greece and Germany will be arrested.
For more on this, watch a report by Dunya News.
---
---