Condolences pour in on Twitter following Dina Wadia's demise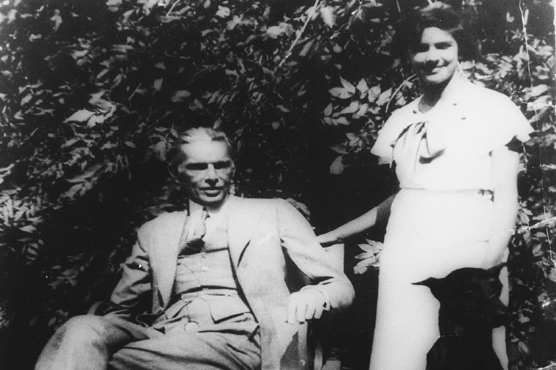 Politicians, prominent personalities extended their condolences on Twitter after the passing of Quai
(Web Desk) – Condolences poured in on social media following the news of the death of Dina Wadia, the only daughter of Founder of Pakistan Mohammad Ali Jinnah.
Politicians, celebrities and many prominent figures extended their condolences over the sad demise of Quaid-i-Azam's daughter, who passed away aged 98. Wadia was born on August 15 in 1919. She was raised by Jinnah after his separation from Rattanbai and her subsequent death.
Dina's last visit to Pakistan was in 2004, when she was accompanied by her son, Nasli Wadia, and grandchildren.
Chief Minister Punjab Shehbaz Sharif, Pakistan's representative to the United Nations Maleeha Lodhi, PTI chief Imran Khan, PTI Vice Chaiman Shah Mehmood Qureshi, were among the few who tweeted condolences following the sad news.
---
Dina Wadia s passing away marked passing away of an era, end of unique bond that existed cause of her illustrated father-our founding father

— Shehbaz Sharif (@CMShehbaz) November 2, 2017
---
Profoundly saddened by passing away of Dina Wadia, daughter of Pakistan s founder, Quaid e Azam Mohammed Ali Jinnah. May she rest in peace

— Maleeha Lodhi (@LodhiMaleeha) November 3, 2017
---
Saddened to learn of the death of our Quaid s daughter Dina Wadia. May her soul rest in peace.

— Imran Khan (@ImranKhanPTI) November 2, 2017
---
Rest in Peace Mrs. Dina Wadia. The last survivor of Quaid e Azam Muhammad Ali Jinnah. pic.twitter.com/QibbquBiVk

— Shah Mahmood Qureshi (@SMQureshiPTI) November 2, 2017
---
Saddened to hear about the demise of Quaid-e-azam s only daughter #DinaWadia.

— Shoaib Akhtar (@shoaib100mph) November 2, 2017
---
Dina Wadia the only daughter of the founder of Pakistan Quaid-e-Azam Muhammad Ali Jinnah, passed away at the age of 98. RIP pic.twitter.com/QiKAxBMAYa

— Naz Baloch (@NazBaloch_) November 2, 2017
---