Ahsan Iqbal suggests 'grand dialogue' to ensure democracy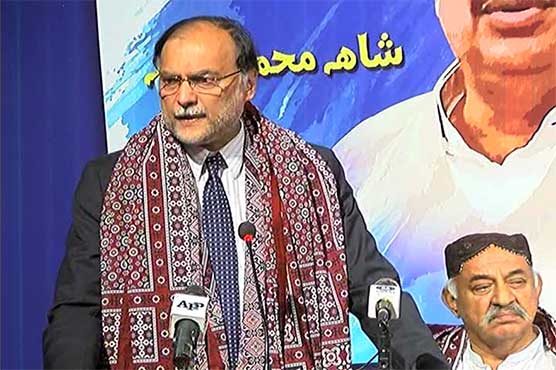 Interior Minister sheds light on the need for unity against unconstitutional intervention
RAWALPINDI (Dunya News) – Federal Minister for Interior Ahsan Iqbal expressed his concerns regarding the pursuit of democracy and suggested the need for a "grand dialogue amongst democratic forces to prevent the unconstitutional intervention".
He urged the democractic forces and political parties to form an alliance and conduct grand dialogue so that any unconstitutional intervention in the near future can be avoided. He also highlighted that certain people are spreading misunderstandings between the government and institutions.
Speaking to media after visiting the house of journalist Ahmed Norani in Rawalpindi today, Ahsan Iqbal condemned the attack and hoped for his wellbeing. He promised to punish the attackers as soon as possible.
The Interior Minister claimed that he himself overviews the developments in investigation on a regular basis, adding that all relevant resources will be used to trace down those responsible. He also stated that the ruling government will not tolerant any kind of restriction on freedom of expression.
On the other hand, NADRA was sent photographs of six suspects involved in the attack on journalist Norani. These pictures were taken from cameras installed in the capital for safe city project.
A team under Police SSP Sajid Kiyani was formed to trace down these suspects. The final report will be forwarded to chief commissioner who will then present these findings before the minister.