Last Updated On 25 October,2017 06:00 pm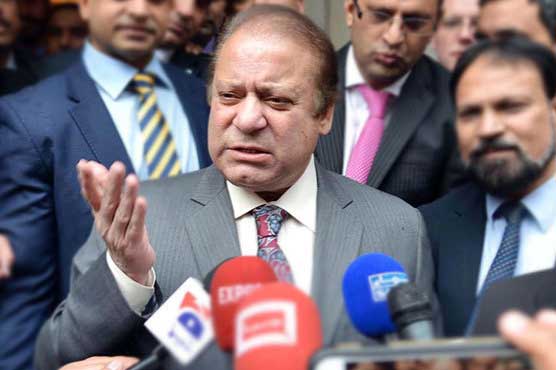 Dunya News has obtained copy of Nawaz Sharif's ticket.
LONDON (Dunya News) – Ousted prime minister Nawaz Sharif will return to Pakistan from London on 7th January next year.
As per details obtained by Dunya News, Sharif will depart London's Heathrow Airport through Pakistan International Airlines (PIA) flight PK-758 at 7:10 PM and land in Lahore on January 07 at 7:50 AM.
---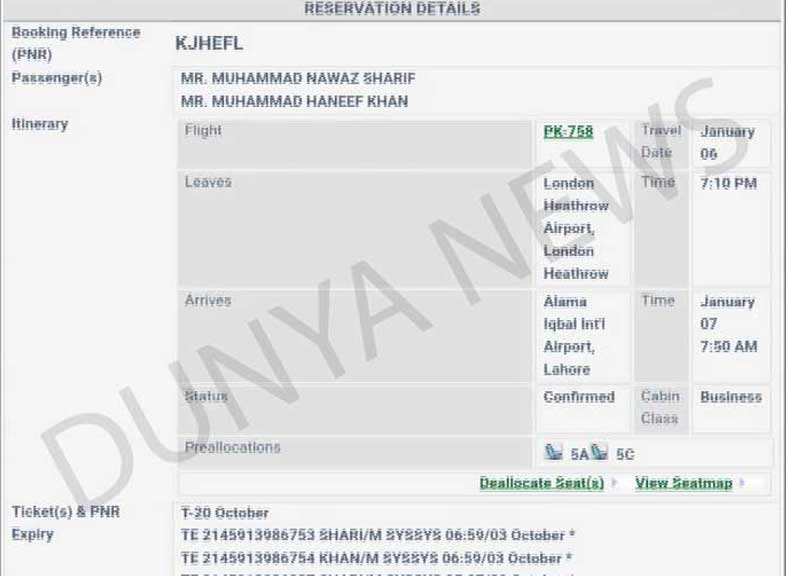 Copy of Nawaz Sharif's ticket obtained by Dunya News
---
Nawaz Sharif is currently in Saudi Arabia along with his mother to perform Umrah. After few days, he will go back to London, where his wife Kulsoom is receiving medical treatment.
The date of return from London was changed a day after Maryam Nawaz posted a message on Twitter, stating that her mother Kulsoom Nawaz has been re-admitted to the hospital.
Ami is hospitalised again. Earnest request for prayers. https://t.co/3ufycfsDzF

— Maryam Nawaz Sharif (@MaryamNSharif) October 24, 2017
Kulsoom has been battling lymphoma- a form of cancer. She began her first round of chemotherapy earlier this month in London and has undergone three surgeries since August.
On October 19, the accountability court in Islamabad indicted the former prime minister as well as his daughter and son-in-law on corruption charges stemming from documents leaked from a Panama law firm.
A lawyer for the 67-year-old Sharif entered a plea of not guilty. Maryam Nawaz, and her husband, Capt (r) Safdar, also attended the hearing and pleaded not guilty.
On the same day, Sharif told reporters in London that he will go back to Pakistan to attend the next court hearing, scheduled for Oct. 26. In his televised comments, he said he was removed from office by judges on a trivial charge.
The charges stem from a trove of documents — known as the Panama Papers — that investigators say showed the family held unreported assets overseas. The family has denied any wrongdoing.
After leaving the courtroom, Maryam Sharif again denied the allegations as "baseless." She said her father would return to Pakistan and that they would "face these cases with courage."
The former prime minister is unlikely to be arrested on his return home as the court has already granted bail.
Sharif's political future has been in doubt since July, when the Supreme Court disqualified him from office over corruption charges.
Rana Sanaullah, a senior leader of Sharif's party, the Pakistan Muslim League, said there were "hidden hands" behind his dismissal and the spate of corruption allegations, without elaborating.