Last Updated On 16 October,2017 11:35 pm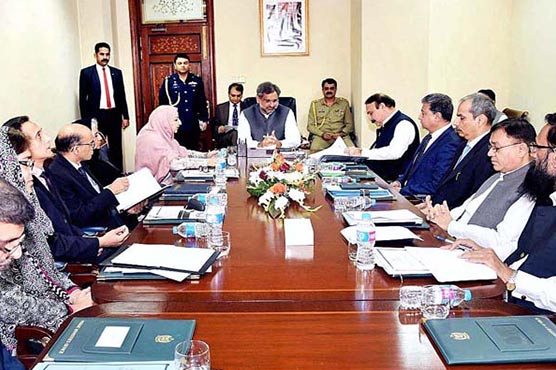 The meeting was also attended by Federal Minister for National Health Services Mrs Saira Afzal Tarar
ISLAMABAD (APP): Prime Minister Shahid Khaqan Abbasi on Monday appreciated the efforts of Capital Development Authority (CDA) for the development of the federal capital as well as provision of civic amenities to the residents of the federal capital and adjoining areas.
The prime minister was chairing a briefing on Capital Development Authority at Prime Minister's Office.
Minister of State Dr. Tariq Fazal Chaudhary, Mayor Islamabad Sheikh Ansar Aziz and senior officers of CADD division were present during the meeting.
Matters pertaining to the role and functions of CDA and the Metropolitan Corporation Islamabad and various developmental activities in the federal capital were discussed during the meeting.
The meeting was informed that construction of signal free & controlled access corridor of Islamabad Highway from Zero Point to G.T. Road, Karal Interchange, construction of bridge at Sohan, Khanna Interchange, Gulberg Underpass and Naval Bridge were some of the major projects undertaken by CDA.
It was informed that recently completed projects include dualization of Service Road (East) E-11, infrastructure development of Park Enclave (Phase-I), multi-purpose car parking, Facilitation Centre G-7, Sports Club F-6, Masjid Aman at Rawal Town, Faqir Aipee Road I-11 and dualization of SR (East) G-10 to F-10.
The on-going projects include dualization of Attaturk Road West, improvement of Serena Chowk, re-surfacing of Islamabad roads, construction of Secretariat Masjid and rehabilitation of service road (West) G-11.
The meeting was further informed that future projects for the federal capital include rehabilitation of Simly Dam Road, Bhara-kahu By-Pass, construction of Interchange at the Intersection of Kashmir Highway and 7th Avenue, construction of additional block at capital Hospital at G-6 (300 beds), slaughter house I-9/4, state of the art Inter-city bus terminal, construction of medical centres, Islamabad Bus Service Project for improvement of transportation etc. in addition to the proposed solutions of the solid waste management.
Various issues relating to strengthening of Metropolitan Corporation, service delivery especially in the rural areas of the capital and the issue of encroachments on state land were also discussed during the meeting.
Earlier, the Prime Minister also chaired a meeting on health related issues in the federal capital.
The meeting was also attended by Federal Minister for National Health Services Mrs. Saira Afzal Tarar.
The Prime Minister directed ICT administration, CADD and CDA to work out a plan with mutual consultation in order to ensure provision of quality health services in the urban as well as rural areas of the capital and to resolve various health sector related issues.