Last Updated On 02 October,2017 05:19 pm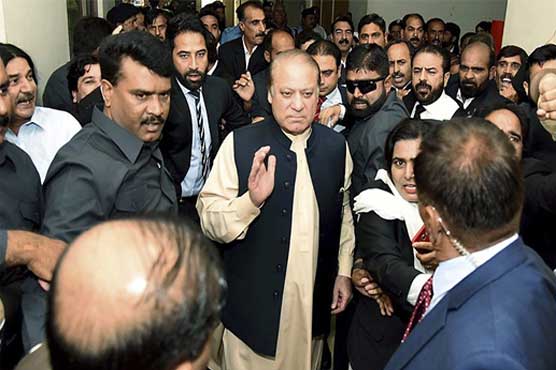 The court issued non-bailable arrest warrants for Nawaz's children and son-in-law.
ISLAMABAD (Dunya News) – Ex-prime minister Nawaz Sharif on Monday left for Punjab House after brief appearance before accountability court in the corruption references filed by National Accountability Bureau (NAB) over Panama Leaks case.

Nawaz Sharif appeared before accountability court for the second time during which Justice Mohammad Bashir heard the references pertaining to London flats, Nelson, Nescom, Hill Metal and Azizia Steel Mills.

The NAB prosecutor told the court that Nawaz Sharif's children and son-in-law are deliberately skipping the hearing as their arrest warrants were sent to the London authorities over which the court issued non-bailable arrest warrants for his sons and bailable warrant for daughter.

The court has also decided to hear cases against Nawaz Sharif, who was not indicted in today's hearing due to the absence of his children, in separate trials.

Subsequently, the hearing has been adjourned till October 9.

Talking to media, State Minister Mohsin Shah Nawaz Ranjha said that Maryam and Captain (r) Safdar will attend the next hearing as Nawaz's daughter is in London for the treatment of her mother.

Ahead of the hearing, several Pakistan Muslim League-Nawaz (PML-N) leaders including Interior Minister Ahsan Iqbal, Talal Chaudhry, Raja Zafar-ul-Haq, Federal Minster for Railways Saad Rafique, Pervez Rashid, Asif Kirmani and Hanif Abbasi were stopped at court's gate while Maiza Hameed and Daniyal Aziz were allowed to participate in the hearing.

Journalists were also barred from entering the court.

On the occasion, strict security arrangements were ensured as Rangers took control of the situation without the orders of interior minister over which Ahsan Iqbal expressed resentment and announced to launch investigation. He said that Chief Commissioner informed about the Rangers deployment around the court in the morning.

On September 26, Nawaz Sharif had short appearance before the court after which he was granted permission to leave to attend his ailing wife who is undergoing treatment for lymphoma.

The court had also issued bailable arrest warrants for Sharif's children Hassan, Hussain and Maryam Nawaz along with his son-in-law Captain (r) Safdar over failing to attend the hearing.

Sharif has faced such challenges before. In 1993 he was sacked from his first term as prime minister for corruption, while in 1999 he was sentenced by a military court to life in prison after his second tenure ended in an army coup.
That time he was allowed to go into exile in Saudi Arabia, returning in 2007 before winning the premiership for a third time in 2013.
Last month his wife Kalsum, who is being treated for throat cancer in London, won his former parliamentary seat during a by-election in Lahore in a poll seen as a test of the PML-N's popularity after his ousting.
---
Panama Leaks Verdict
---
On April 20, Justice Asif Saeed Khosa had announced Panama Leaks case decision comprising of 540 pages, saying that the court issued a split ruling calling for a JIT. Two of the five judges went further, branding Sharif "dishonest" and saying he should be disqualified, but they were outnumbered.

The court formed a six-member inquiry team that included Federal Investigation Agency's (FIA) Additional Director General Wajid Zia, Military Intelligence's Brig Kamran Khurshid, National Accountability Bureau's (NAB) Director Irfan Naeem Mangi, State Bank of Pakistan's Amer Aziz, Securities and Exchange Commission of Pakistan's (SECP) Executive Director Bilal Rasool and Inter-Services Intelligence's Brig Muhammad Nauman Saeed.

The JIT members during the seven-week period interrogated eight members of Sharif family including Nawaz Sharif, his younger brother Shehbaz Sharif, sons Hassan and Hussain Nawaz, daughter Maryam Nawaz, son-in-law Captain Safdar, cousin Tariq Fazal Chaudhry and brother-in-law Ishaq Dar and submitted its report on July 10.

On July 28, the five-judge larger bench of the Supreme Court headed by Justice Asif Saeed Khosa and comprising Justice Ejaz Afzal Khan, Justice Gulzar Ahmed, Justice Sheikh Azmat Saeed and Justice Ijaz-ul-Ahsan after a week-long hearings unanimously disqualified Nawaz Sharif.

"It is hereby declared that having failed to disclose his un-withdrawn receivables constituting assets from Capital FZE Jebel Ali, UAE in his nomination papers filed for the General Elections held in 2013 in terms of Section 12(2)(f) of the Representation of the People Act, 1976 (ROPA), and having furnished a false declaration under solemn affirmation respondent No. 1 Mian Muhammad Nawaz Sharif is not honest in terms of Section 99(f) of ROPA and Article 62(1)(f) of the Constitution of the Islamic Republic of Pakistan, 1973 and therefore he is disqualified to be a Member of the Majlis-e-Shoora (Parliament).