Last Updated On 24 September,2017 03:32 pm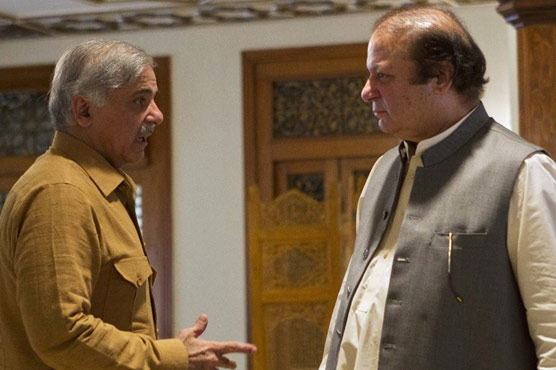 PML-N leaders met in a high-level meeting in London involving sacked PM Nawaz Sharif
(Web Desk) – Punjab Chief Minister Shehbaz Sharif might be appointed as the prime minister of Pakistan, according to reports received from the all-important meeting in London involving former PM Nawaz Sharif.
It was also told that Kulsoom Nawaz will not return to Pakistan for the coming six months due to her recent surgeries and treatment. Current PM Shahid Khaqan Abbasi also paid a visit to ex-PM in London upon his return from the United States (US) and attending UN General Assembly session.
Politicians from the ruling party including Foreign Minister Khawaja Asif, Maryam Nawaz, Capt (retd) Safdar and others met at the office of Hassan Nawaz. The members included Finance Minister Ishaq Dar, who s Islamabad residence was recently raided by a Lahore-based team of National Accountability Bureau (NAB) amidst corruption references in accountability court.
Talking after his meeting, PM Abbasi said democracy won in NA-120 by-election in which PML-N candidate Kulsoon Nawaz regained the constituency vacated after her husband s judicial ouster. Sources claimed that there was no discussion about approval of amended Electoral Reforms Bill 2017 in Senate which has paved the way for Nawaz Sharif to become party president of PML-N.
It was claimed that another high-level meeting of PML-N leaders will be held in London after the arrival of Shehbaz Sharif which will yield some important decisions. Sources said Finance Minister Ishaq Dar will present his resignation to PM within a few days, and not return to Pakistan where the anti-graft court awaits his response to allegations.
The ex-PM will stay in London for three to four months as well, sources added. It was told that doctors have advised Kulsoom Nawaz against traveling for at least four to six months after the series of surgeries. It is probable that Kulsoom Nawaz s medical recovery will result in another NA-120 by-election that will be contested by Shehbaz Sharif who could then be appointed as the premier after PM Abbasi s resignation and National Assembly voting later on.