Electoral reforms bill approval in Senate paves way for Nawaz as PML-N head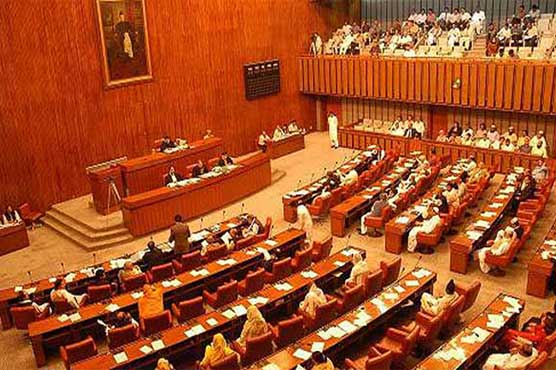 38 out of 75 members of lower house voted in favour of Section 203 of Electoral Reforms Bill 2017
(Web Desk) – Senate passed Electoral Reforms Bill 2017 after lawmakers discussed their reservations on Section 203. The bill has already been approved by the National Assembly.
Approval of the bill will not only introduce new policies for the 2018 general election but also pave the way for sacked premier Nawaz Sharif to become president of Pakistan Muslim League-Nawaz (PML-N). 38 out of 75 members of the lower house voted in favour of the reforms while 37 casted their opinion against it.
In fact, the bone of contention in electoral reforms bill was Section 203. Presiding officer conducted voting to decide the matter in which 38 members of the lower house voted in favour of the section while 37 expressed their opinion against it. The federal government succeeded in passing the bill by just one vote.
This one vote allowed the Senate to pass electoral reforms bill 2017 without amendment in Section 203. PTI and PPP had voiced their desired amendment in the reforms to permanently bar any person disqualified under articles 62 and 63 from being an office-bearer of a political party however, such a condition is not enlisted in the bill.
Proviso submitted by PPP, ANP and PML-Q leaders suggested an amendment that reads, "Provided that the person shall not be appointed or serve as office-bearer of a political party if he is not qualified to be, or is disqualified from being, elected or chosen as Member of Majlis-e-Shoora (Parliament) under any law for the time being in force."
Ex-PM Nawaz Sharif was made to resign from PML-N presidency after disqualification - by Supreme Court ruling in Panama case - under Clause 5 (1) of the Political Parties Order 2002.
MQM-P sided with the ruling PML-N to ensure that Nawaz Sharif gains back PML-N presidency. Raja Zafar-ul-Haq and Law Minister Zahid Hamid appreciated the MQM-P lawmakers at their seats.
Moreover, Senate Chairman Raza Rabbani left the lower house when voting was held on Section 60 – regarding manifestos of MNA candidates – second time. He opined that since the Senate members chose to vote against his will, he shouldn't preside over the session.