Last Updated On 06 September,2017 06:23 pm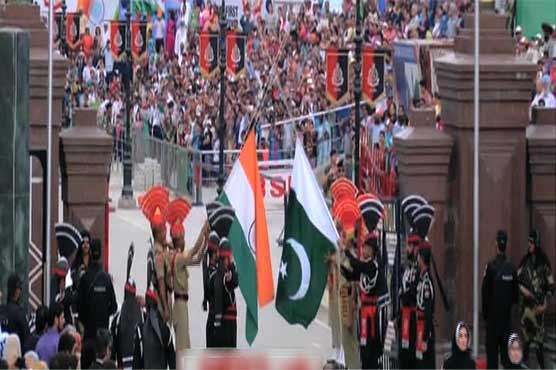 A highly passionate flag-lowering ceremony was held on Sept 6 at the two borders with India
LAHORE/KASUR (Dunya News) – Flag lowering ceremony was carried out at Wagah Border and Ganda Sindh Border on the eve of September 6 which marks Defence Day. A huge crowd was waiting at both sides of the borders while Pakistanis chanted 'Pakistan Zindabad' as loud as they could to showcase their passion for the country.
Rangers positioned at the Pakistani side looked into the eyes of their Indian counterparts as they lowered the flag and sent a clear message. The roaring moves of paramilitary persons were cheered immensely by the people.
National songs were played at one side with drumbeats heating up the attendees. People danced in joy and celebrated the courage of armed forces. The passion was greatly appreciated by both sides of the borders.
Hoisted flags at both Wagah and Ganda Singh borders were lowered at sunset. Special security arrangements were made to avoid any unfortunate incident.
---
WATCH: Passion that never seen before shown by Pakistanis at Wagah border parade