Last Updated On 20 August,2017 01:07 pm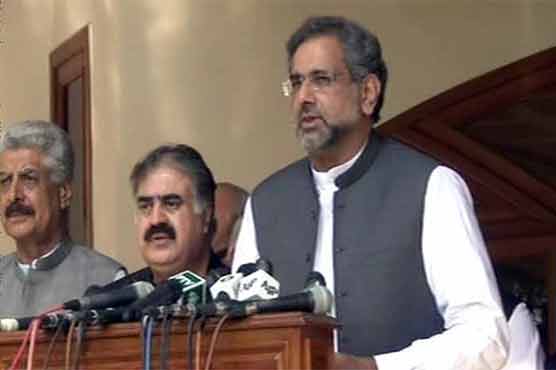 Shahid Khaqan Abbasi convened a meeting with Balochistan CM among other top authorities
QUETTA (Dunya News) – Prime Minister (PM) Shahid Khaqan Abbasi presided over a meeting of Balochistan authorities led by Chief Minister (CM) Sanaullah Zehri on Saturday and told the media following the sitting that a lot of decisions were taken today to tighten law and order situation.
While briefing the media over details of the meeting, PM Abbasi said that as announced by former premier Nawaz Sharif, health card scheme would be branched out to the entire province.
He said that different projects under China-Pakistan Economic Corridor (CPEC) were reviewed in the meeting.
He asserted that issues faced by the people in the province would be solved. PM Abbasi said that he was entirely sure that Balochistan would soon become the richest province of Pakistan.
While talking about current political scenario, the premier said that to defend is position is every institution as well as body's right. He said that the political parties convene talks in light of the changing political situation in the country and former president Asif Ali Zardari should also be a part of the dialogue.
He reduced Zardari's statement to a mere politically charged statement as General Elections 2018 are scheduled in the coming year.
PM Abbasi said that Pakistan Muslim League-Nawaz (PML-N) would defend whatever reference is filed against Nawaz Sharif and that the people of Pakistan would give their verdict after June 4, 2018.