Nisar will no longer be part of federal cabinet: sources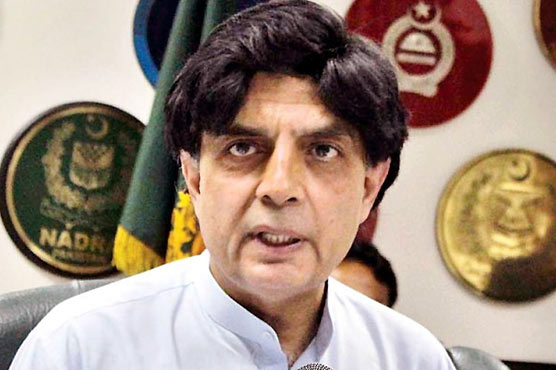 Names of cabinet ministers under discussion in PML-N meeting attended by Nawaz Sharif and PM Shahid
MURREE (Dunya News) – Sources claimed that Chaudhry Nisar Ali Khan will no longer be part of the federal cabinet, having served as interior minister in Nawaz Sharif era before his disqualification on July 28.
Sources informed that Ishaq Dar and Marriyum Aurangzeb will remain as finance minister and minister of state for information and broadcasting respectively. Abdul Rehman Kanju and Daniyal Aziz could be appointed as ministers while Pervez Malik can be appointed as the state minister for trade. The federal minister will take oath tomorrow in front of President Mamnoon Hussain. Most of the former state minister will retain their ministries, according to updates.
Mutual consultation between members of the senior Pakistan Muslim League-Nawaz (PML-N) leadership in Murree continued on the second consecutive day as it is yet to name the final list of cabinet members.
The meeting was attented by newly appointed PM Shahid Khaqan Abbasi, Nawaz Sharif Punjab CM Shehbaz Sharif, Pervez Rashid and others. It is yet to be decided which PML-N lawmakers will secure their names in the federal cabinet. The senior leadership is discussing the names for ministries of defence, interior and foreign affairs.
It is also being pointed out whether Shehbaz Sharif should contest from NA-120 and consequently be appointed as the premier after his brother's ouster. Sources revealed that former interior minister Chaudhry Nisar will not be the member of federal cabinet.
A majority of PML-N lawmakers will retain their ministries and Nisar will join the cabinet if Shehbaz Sharif takes over as PM, according to sources. It is also likely that Daniyal Aziz would make his way into the cabinet of PM Shahid Khaqan and most of the ex-state minister will again be appointed at their respective ministries, in addition to a few new names.
On the other hand, leaders including Daniyal Aziz and Marriyum Aurangzeb also arrived at the consultation meeting at Hamza Shehbaz's residence where workers of PTI and PML-N had a face-off outside. Both groups teamed up separately to chant slogan against the rival party. While PTI supporters were tasked to demonstrate outside the lawmaker's house, PML-N workers decided to defend and counter the protest.