Nisar refuses to continue working as interior minister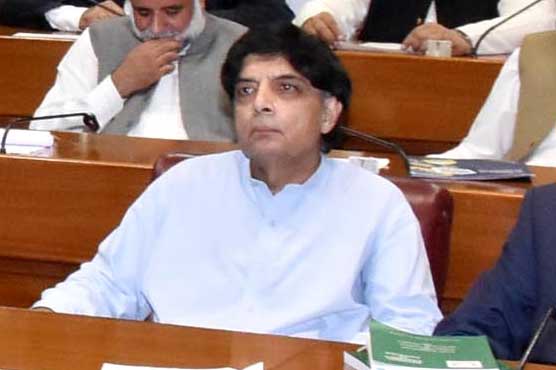 PM Shahid Khaqan had asked Chaudhry Nisar to not relinquish his ministry.
ISLAMABAD (Dunya News) – Newly-elected Prime Minister (PM) of Pakistan Shahid Khaqan Abbasi has asked Chaudhry Nisar Ali Khan to continue working as the Interior Minister of Pakistan, but Nisar has refused to do so and said he won't change his decision.
Let it be known that Chaudhary Nisar had announced to resign from the ministry in his press conference just a day before the verdict of the Supreme Court (SC) of Pakistan regarding the high-profile Panama Papers case in which the then Prime Minister Nawaz Sharif was disqualified.
"I have told my leadership that I will resign the day Supreme Court announces its verdict; no matter which side it goes. Whether it is in our favor or against us, I'll resign from the cabinet and also from the National Assembly seat," he had said.
Amidst the bumpy political circumstances, rumors also floated that Nisar met Pakistan Tehreek-e-Insaf (PTI) Chairman Imran Khan at an Islamabad eatery, but former interior minister denied any such meeting.
Nisar clarified that he went to the restaurant with his children for dinner, and had no idea about Imran's presence there. It is possible that Imran had come after we left, said Nisar.
He also told the journalists outside the Parliament House on Tuesday that it was his birthday on the previous day, and his daughter insisted to go out for a dinner.