Last Updated On 13 July,2017 06:42 pm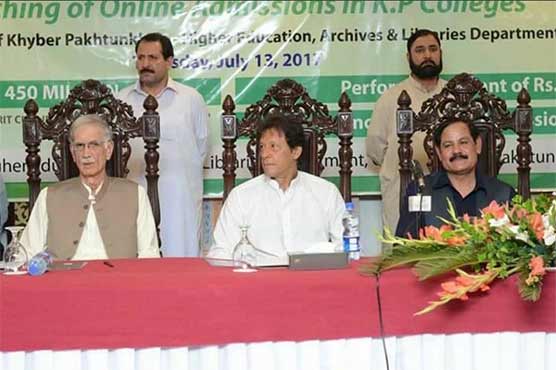 Imran Khan said people in India fear Nawaz Sharif's ouster considering him as their friend
PESHAWAR (Dunya News) – Pakistan Tehreek-e-Insaf (PTI) Chairman admitted that no change occurred after the passage of four and a half years, adding that a political revolution would take time and it could only occur after the 2018 general elections.
He said, "I cannot promise that everything will change in Khyber Pakhtunkhwa (KP) by the elections in 2018 as it is difficult process."
On KP health reforms
While conducting a press conference in the provincial capital, he said they increased the KP health budget to Rs. 65 billion, adding that 6,000 new doctors have been appointed and 95% district hospitals have health specialists in them. "The provision of health card is the biggest success of PTI-led KP govt," he claimed.
Imran Khan promised to install solar power plants in all district hospitals of the province. He stated that Rs. 500 million was spent on health cards within six months which were distributed amongst twenty four lac families.
On the issue of doctors' salary, the PTI leader said doctors in KP receive the highest pays. "Everything cannot be improved within a moment as reforms take time. People take stay order whenever we try to do something for the betterment," he said.
'India fears Nawaz ouster'
PTI Chief said people in India fear the ouster of Nawaz Sharif because they consider him a friend. He said he read an Indian newspaper and realised the neighbouring country was not in favour. India fears that the army would be strengthened after Nawaz Sharif's ouster, he added.
'No help from federal govt'
KP Health Minister Shahram Khan complained that the federal government didn't allot any fund to make burn units in the province.
On a question about Maulana Fazlur Rehman, he gave an impression that the JUI-F leader supports Nawaz Sharif after taking money. It should be noted that the coalition member raised concerns over Panama JIT report.