Last Updated On 11 July,2017 11:56 am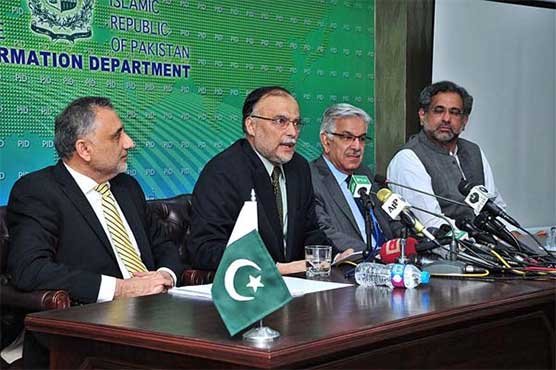 Mandate of the people could not be negated by 'such tactics': Shahid Khaqan
ISLAMABAD (Dunya News) – Pakistan Muslim League-Nawaz (PML-N) has rejected the report of Panamagate Joint Investigation Team (JIT) that was filed today in the top court recommending it to have a corruption reference lodged against the premier and his two sons under supervision of National Accountability Bureau (NAB).
Senior representatives of Pakistan Muslim League-Nawaz (PML-N) and federal ministers Ahsan Iqbal, Shahid Khaqan Abbasi, Khawaja Asif and Barrister Zafarullah addressed a press conference in the federal capital today.
Iqbal said that stance of PM Nawaz's opponents was turned into a report and that the political party rejects the case made by the probe committee.
He alleged the team to have attempted to favour opposition parties with the report. Iqbal said that the opposition wants to hinder the progress that Pakistan is making. The incumbent government steered the country out of crisis, he asserted adding that Balochistan was streamlined into national agenda of progress while peace was restored in Karachi.
The planning and development minister held JIT report a 'sit-in number three' and added that it would fail like the first two.
Barrister Zafarullah said that members of the JIT were not experienced over criminal cases and four out of the five officials were not even remotely related to the law. He alleged certain members of partisanship observing that Bilal Rasul is nephew to leader of Pakistan Muslim League-Quaid-e-Azam (PML-Q) Mian Azhar and said that Amir Aziz had forged cases during former dictator Musharraf's tenure.
Zafarullah objected to the 'kind of behvaiour' Tariq Shafi and Javed Kiani had to bear.
He also said that Section 99 bars phone tapping and that statement of a key witness was not recorded.
Defence Minister Khawaja Asif said that companies that are not remotely connected to Hussain Nawaz were branded his by the JIT. He termed the situation a political battle not a legal one. Asif said that the 'battle' would be fought on all platforms and at all levels.
Shahid Khaqan Abbasi said that the report of Panamagate JIT was 'ridiculous'. He rhetorically asked if transferring money back to Pakistan to his father was Hussain Nawaz's crime.
He said that the mandate of the people could not be negated by 'such tactics'.