Last Updated On 22 June,2017 10:34 pm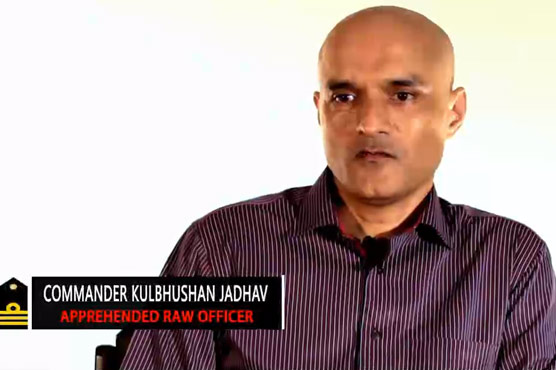 The RAW-tasked convicted Indian spy has appealed to army chief Gen Qamar Bajwa for clemency
(Web Desk) - A second confessional video of the serving Indian Navy officer and convicted spy, Kulbhushan Jadhav, has been revealed by Pakistan Army today.
Inter-Services Public Relations DG Major General Asif Ghafoor posted the confessional video of Kulbhushan Jadhav today in which he reaffirmed his confession to the charges of espionage and terrorism in Pakistan. The video was posted on Facebook and captioned, "Commander Kulbushan Sudhir Jadhav, the serving Indian Naval Officer who has been sentenced to death on charges of espionage, sabotage and terrorism has made a mercy petition to the Chief of Army Staff."
---
PR322/17
Indian Spy Kulbhushan files mercy petition to COAS seeking forgiveness for his espionage,terrorist & subversive activities.(1 of 2) pic.twitter.com/WwknZrQ5Is

— Maj Gen Asif Ghafoor (@OfficialDGISPR) June 22, 2017
His mercy petition to Mil Appellate Court was already rejected.
Second confessional video at https://t.co/GldmIYLOsl . (2 of 2) pic.twitter.com/EqmbRyinRI

— Maj Gen Asif Ghafoor (@OfficialDGISPR) June 22, 2017
---
It was also mentioned that Jadhav admitted, in the plea, to his involvement in espionage, terrorist and subversive activities in Pakistan and expressed remorse at the resultant loss of many precious innocent lives and extensive damage to property due to his actions. ISPR told he is seeking forgiveness for such actions he has requested General Bajwa to spare his life on compassionate grounds.
Earlier, the serving Indian Naval officer had appealed to the Military Appellate Court for mercy, but it was rejected. According to the law, he can ask for clemency to COAS. If his appeal is rejected by the army chief then he will repeat his appeal to the President. He will not be acquitted if both his appeals are rejected.
ISPR has released his second confessional video, in which he admits to the acts of terrorism and espionage. The video depicts the cross-border terrorism sponsored by India in Pakistan.
---
VIDEO: Second confessional video of convicted Indian spy Kulbhushan Jadhav
---
The Indian serving Naval officer was apprehended from Mashkel region of Balochistan on March 3, 2016. His cover name was Hussein Mubarak Patel. His Indian Navy batch number is 41558Z. He confessed to being tasked by The Research and Analysis Wing (R&AW or RAW) to collect Pakistan s naval assets. He visited Karachi two times and crossed the border from Iran. "RAW had predicted that Narendra Modi will win the 2014 elections, so my duty was transferred to the intelligence agency," he told.
Jadhav said he supervised the terror attacks in Karachi, Makran, Quetta and Turbat. The Indian spy told about his involvement in various terror attacks in Pakistan, including killing of SSP Chaudhry Aslam, Tehreek-e-Taliban Pakistan (TTP) backed Mehran Base attack, spreadin ethnic violence in Sindh and Balochistan, and others. He confessed that the Indian authorities had sponsored terrorism in the neighbouring regions. He told the funding of the projects came from bases in Mumbai and Delhi.
Previously, Jadhav had confessed to spreading terrorism in Balochistan and Sindh in his first video. He had been sentenced to death for his involvement in espionage and sabotage activites in Karachi and Balochistan. India had appealed against his death sentence in International Court of Justice (ICJ) and termed his conviction as egregious violations of the Vienna Convention on Consular Relations . The court had ruled stay on his punishment until the final verdict. It stated, ""Pakistan shall take all measures at its disposal to ensure that Mr Jadhav is not executed pending the final decision in these proceedings."