Last Updated On 22 June,2017 01:17 pm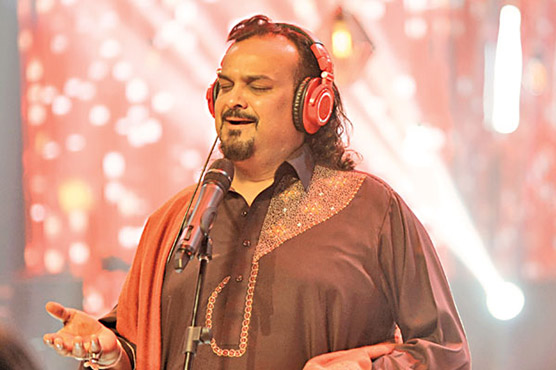 On his first death anniversary, we look at five of the maestor's most memorable performances
(Web Desk) - Exactly a year ago, on this day, Pakistan lost one of its dearest sons after a group of terrorists attacked his vehicle and gunned down the Qawwal outside his residence in Liaquatabad, Karachi, as he was on his way to attend a Ramazan transmission, ultimately leading to his unfortunate death. Following the untimely event, the entire Pakistani media went into a state of shock and utter disbelief.
Even a year on, the common people of Pakistan, the politicians, journalists and other prominent figures have been bemoaning the "national loss" of Amjad Sabri.
---
Today is the first martyrdom anniversary of #AmjadSabri & we all can still feel his absence. He was a true maulaai & one gem of a person. pic.twitter.com/U7fHI3Iegf

— Syed Shahbaz Haider (@PatrioticNoodle) June 12, 2017
---
---
Death anniversary of #AmjadSabri today pic.twitter.com/RwiLKfUxQi

— Imtiaz Haidery (@imhaidery) June 12, 2017
---
---
Pakistan will never forget this Smile #AmjadSabri pic.twitter.com/z0hwU3XTtL

— Abdul Rehman (@isp8) June 12, 2017
---
---
Sabri is credited with making the qawwali musical style accessible to Pakistan s youth. He was a sought-after performer for large-scale events in Pakistan, like the annual Lux Style Awards and cultural exchange programme, Shaan-e-Pakistan. He was due to appear on Coke Studio Season 9.
Here are five of his most memorable performances:
5) Dam Dam Mast Qalandar
---
---
4) Mera koi Nahee Hai
---
---
3) Milta Hai Kia Namaz Main
---
---
2) Tajdar e Haram
---
---
1) Bhar Do Jholi Meri
---
---