Last Updated On 19 May,2017 04:11 pm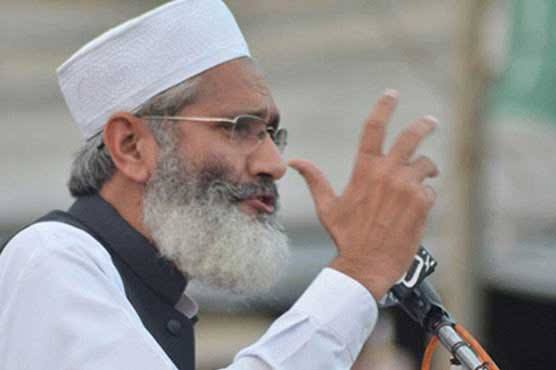 Siraj was addressing Karachi Bar Association.
KARACHI (Dunya News)- Jamaat-e-Islami (JI) Chief Siraj-ul-Haq on Friday said that his party had rejected stance of International Court of Justice (ICJ) and India in Kulbhushan Jadhav's case, an Indian in-service naval officer and Research and Analysis Wing's spy (RAW) who was caught from Balochistan's Mashkel.
He was addressing Karachi Bar Association (KBA) in Karachi.
"We are not servant of any international court as Pakistan is an independent state", added Haq. He termed ideological terrorism a cause of Bangladesh's creation.
Haq urged lawyers to demand prime minister's (PM) resignation till completion of probe in Panama Leaks Case and deplored maladroitness of federal government in bringing Dr. Afia home. Haq lambasted Nawaz Sharif over his claim that nation wanted country to become a liberal state.
Haq said justice was not served to the victims of 12 May incident and accused former Chief Justice of Pakistan (CJP) Iftikhar Chaudhry of doing nothing in this regard. He stressed on establishing the supremacy of law for concrete development.