Last Updated On 18 January,2017 04:53 pm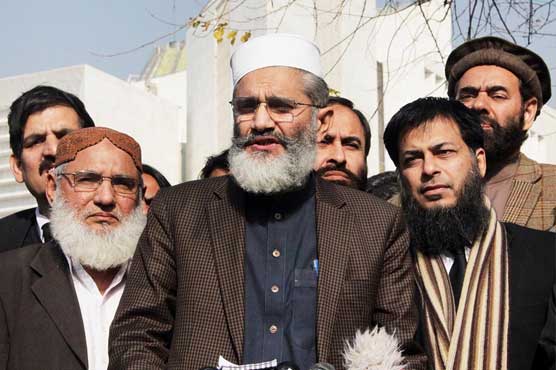 "We want everyone's accountability," Sirajul Haq told reporters outside the Supreme Court.
ISLAMABAD (Dunya News) – The Supreme Court of Pakistan has accepted Jamaat-e-Islam's (JI) petition seeking Prime Minister Nawaz Sharif's disqualification under Articles 62 and 63 of the Constitution.
The apex court has issued notices to all the respondents, directing them to submit their responses.
During the hearing of Panama Papers case today (Wednesday), Justice Asif Saeed KHosa remarked that Jamaat-e-Islami's lawyer will continue his arguments after conclusion of arguments by Prime Minister Nawaz Sharif's counsel Makhdoom Ali Khan.
Speaking to reporters outside the Supreme Court, JI chief Sirajul Haq stated that his written arguments are ready.
"We want everyone's accountability," he added.
Sirajul Haq further stressed that his party's basic aim is to eliminate corruption from the country.
In its petition, the party had alleged that the Prime Minister had intentionally concealed property owned by him outside Pakistan, particularly in London, as a result whereof he evaded taxes.
"Mian Muhammad Nawaz Sharif, Prime Minister of Pakistan has lost his eligibility as Member of National Assembly under Article 62 (1) (f) because the information in Panama leak in shape of four flats bearing numbers as 16, 16-A, 17, 17-A, Park Lane, Mayfair, London, was never mention by him in his nomination papers in Election 2013, Income Tax Statements and Wealth Tax Statements, which he admitted in his speech, therefore, he remained no more Sadiq or Ameen," the petition stated.
Nawaz Sharif is not competent to being the Prime Minister of Pakistan, JI said.
Last year in April, the leak of 11 million documents held by the Panama-based law firm Mossack Fonseca revealed nexus between several corrupt politicians and businesses around the world. Among them was the Prime Minister Nawaz Sharif's family too.
The Panama leaks revealed that Sharif's children owned offshore companies and assets not mentioned in his family's wealth statement.
The companies, according to the leaked papers, were used to launder illegal wealth and to acquire foreign assets, including some apartments in London s Mayfair area.