PM should take notice of conflict amid Nisar, Opposition: Fazl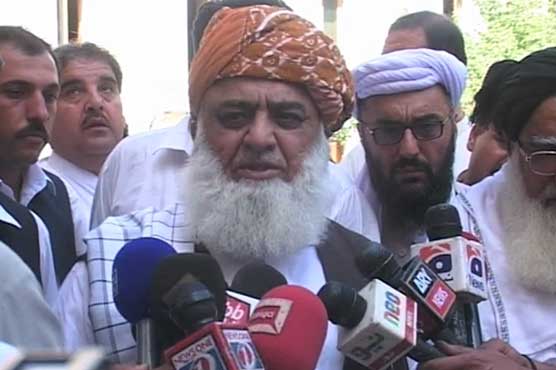 Questions being raised over discriminatory portions of NAP, says JUI-F chief
QUETTA (Dunya News) –Jamiat Ulema Islam-Fazl (JUI-F) chief Maulana Fazlur Rehman stated on Saturday that Prime Minister (PM) Nawaz Sharif should take notice of the conflict prevailing between Minister of the Interior Chaudhary Nisar Ali Khan and the Opposition, further stating that the PM and Pakistan People's Party (PPP) Co-chairman Asif Zardari should play an effective role in this regard, reported Dunya News.
While addressing to the media after condoling the death of the lawyers who lost their lives in the Quetta blast, Maulana Fazl stated that the Civil Hospital incident was a tragic tale and that it would give rise to another chapter of suffering.
He said that questions were being raised over the discriminatory portions of the National Action Plan (NAP), adding that reservations over the NAP were there before as certain discriminatory moves were made through this legislation which has made political, social and religious circles to raise questions over it.
JUI-F chief said that the battle against terrorism needs to be fought while remaining united. He stated that there were certain elements in the region which were against the establishment of peace. He said that the entire nation was looking towards the politicians at this hour, adding that all stakeholders must arrive at one page.
He suggested that PM Nawaz and PPP Co-chairman Asif Zardari should play a role to lessen the prevailing conflict, further adding that reformation was necessary instead of putting the responsibility of the incident on one another.