Last Updated On 16 July,2016 08:48 pm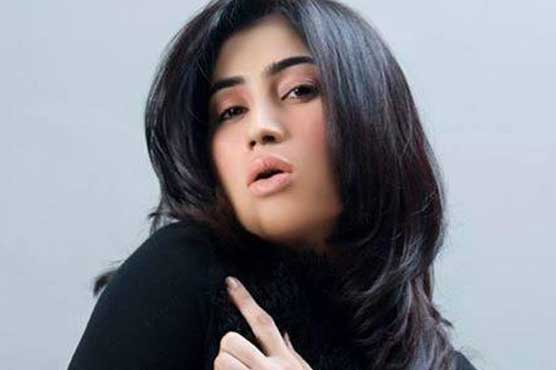 Qandeel, 26, grew to fame on social media with bold videos
MULTAN (Web Desk) – Pakistani social media celebrity Qandeel Baloch has been murdered by her younger brother in what police suspect was a so-called "honour killing".
---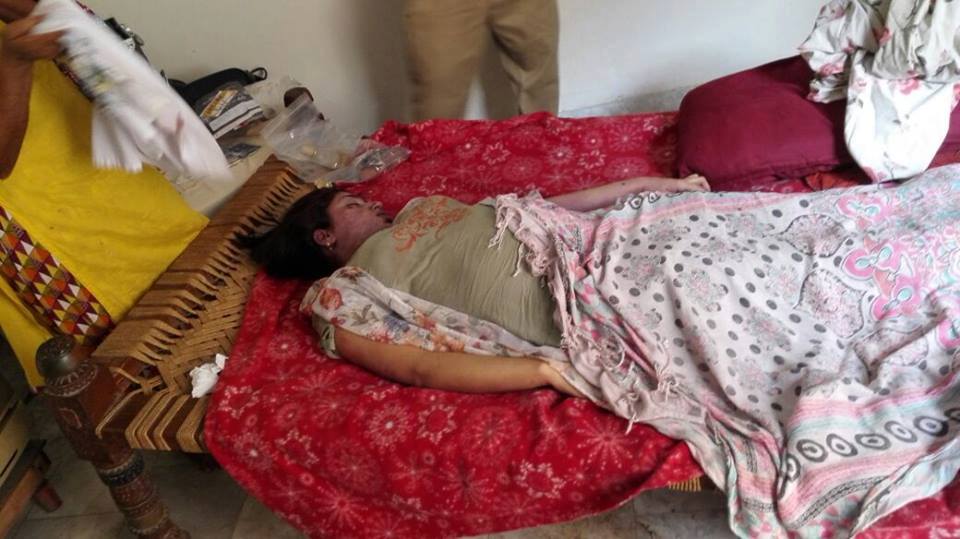 Qandeel's body, while team collects evidence at the crime site
---
"Qandeel Baloch has been killed, she was strangled to death by her brother, apparently it was an incident of honour killing," said Sultan Azam, senior police officer in Multan.
Baloch, believed to be in her twenties, had travelled with her family from the southern port city of Karachi to Muzzafarabad village in central Punjab province for the recent Eid holiday.
The brother fled after the incident, the police officer said, adding that the brother was upset at the "disrespect" Qandeel had caused to the family. Murdered Baloch's father confirmed the attack by her younger brother in a statement.
Baloch was strangled to death in a house in native Multan where she had been residing for past six days. Body of the victim has been shifted to Nishtar Hospital.
---
WATCH VIDEO:
---
FEARED FOR LIFE
---
The social media star had addressed a press conference earlier this month in which she had demanded the Home Ministry to provide her security as she claimed to be receiving death threats.
However, the department concerned refused to entertain the request.
The police stated that her brother fled the crime scene and had been threatening her over her bold Facebook posts recently.
---
MULTAN CPO STATEMENT
---
Capital Police Officer, while talking to the media has said that the time and cause of death would be told with certainity once autopsy report is compiled and forensic evidence is studied.
She is survived by two sisters and five brothers besides the accused named Waseem.
He qouted family of the victim when he said that it could have happened for 'honour'. Victim's parents and the accused were apparently present in the house last night, he said adding that Multan police was not requested by anyone for provision of security.
Meanwhile, Punjab Police Inspector General, Mushtaq Sukhera has taken notice of the murder and summoned a report from officials concerned.
---
CPO'S TALK WITH MEDIA:
---
MUFTI QAWI REACTS
---
Central Ruet-e-Hilal Committee's member, Mufti Abdul Qawi has condemned the incident. While talking to Dunya News, he said that he had forgiven her ever since the bad blood between the two last month.
Qawi was sacked from the post after his pictures with the self-claimed fashion model surfaced which were clicked in a Karachi house. Different sections of the society had seen the pictures with shady eyes and raised eyebrows.
However, Baloch had said that Mufti requested her to meet him more than once and she met him on his request.
Mufti had approached her when he came to Karachi and she met him there, Baloch had said.
The self-proclaimed model had also ridiculed the cleric on various TV channels after the release of controversial content.
---
MUFTI'S RESPONSE:
---
THREE MARRIAGES
---
Baloch has been murdered three days after her three marriages which were kept under the wraps until then were revealed.
Dunya News had obtained a marriage certificate of her wedding with Kot Addu local named Aashiq Hussain in 2008. A day after the news surfaced, another man name Shahid Iqbal from Peshawar claimed that she married him 13 years ago and was married to a man before him as well.
Baloch had admitted to being married to Aashiq Hussain at one point in time in a conversation with Dunya News the same day. Shahid Iqbal, a tailor by profession had claimed that Baloch eloped with him and they got married through court.
It should be mentioned here that she is survived by a son with Aashiq Hussain from the wedlock that ended in divorce in 2010.
She never took her son in after the divorce saying that she 'could not keep him'.
---
BOLD AND UNABASHED
---
Qandeel was a media sensation, unabashedly bold and was also considered highly controversial. She shot to fame in 2014 after a video of her pouting for the camera.
She became famous through her tireless self-promotion and suggestive "selfies" posted on Facebook and Twitter and had amassed tens of thousands of followers.
She had expressed her desire many times to marry Oxford-learned ex-cricketer and opposition politician Imran Khan.
---
HONOUR KILLINGS
---
Hundreds of women are killed in Pakistan each year for so-called honour.
In the ongoing year alone, over ten women have been killed by respective relatives including husbands, fathers and brothers in different parts of the country.
A 19-year-old girl named Maria Sadaqat was tortured then burned alive for refusing a marriage proposal in Murree while a Lahore resident roughly 16 years of age was set ablaze by her mother, brother and brother-in-law for marrying a man of her will.
Prime Minister Nawaz Sharif vowed to eradicate the evil of honour killings after a documentary highlighting the issue won an Oscar in February, but no fresh legislation has been tabled since then.