CJP Jamali expresses dissatisfaction with police efforts for Owais's recovery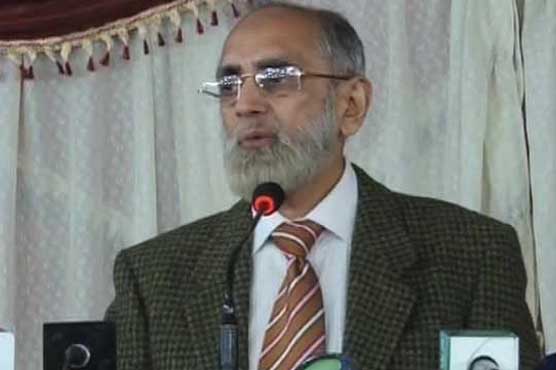 Rangers Sindh Director General briefed the Chief Justice of Pakistan on the progress in targete
KARACHI (Dunya News) – Chief Justice of Pakistan, Anwar Zaheer Jamali has expressed dissatisfaction with administration's efforts for abducted Owais Ali Shah's recovery, son of Chief Justice of Sindh High Court, Sajjad Ali Shah, reported Saturday.
Chief Justice Jamali held separate meetings with Sindh Chief Secretary, Home Secretary, Inspector General of Police and Rangers Director General in Supreme Court Karachi Registry.
The authorities briefed the Chief Justice of Pakistan on security situation in the city and steps taken by the government and law enforcement agencies for immediate recovery of Owais Ali Shah.
CJP Jamali resented the law enforcement agencies stating had the Sindh Police taken timely action, situation would have been different in the case.
Rangers Sindh Director General also briefed the Chief Justice of Pakistan on the progress in targeted operation against criminals and target killers.
On the other hand, Chief Minister Qaim Ali Shah has spoke to the Sindh Assembly today and vowed that the government was actively pursuing the case and Owais s safe recovery would be made sure.
An operation was launched in September 2013 in Karachi that aimed at ridding the city of nefarious designs working against its stability creating unrest. Over thousand different operation have been carried out so far in leadership of the paramilitary force.
Rangers have nabbed armed workers of political parties mainly Muttahida Qaumi Movement and lodged cases against them in anti-terrorism courts over the last two and half years.
Owais was abducted in Clifton area earlier this week by unidentified miscreants after he exited a superstore. He had returned from London few months ago after completing his law degree.
This is not the first incident of a notable person's kidnapping as former governor of Punjab, late Salman Taseer's son, Shahbaz Taseer was abducted in Lahore and managed to escape Taliban's captivity this year after nearly five years.
Former prime minister Yousaf Raza Gilani's son was rescued in a joint US-Afghan operation in Afghanistan months after Shahbaz's return.
Owais's abduction and the latest killing in Karachi of world famous Qawwal, Amjad Sabri this week have sparked a backlash against Rangers and LEAs who claim to have reclaimed the security control of the city to a large extent.
---
WATCH VIDEO: