Turkey, Russia should resolve tensions with mutual dialogue: Foreign Office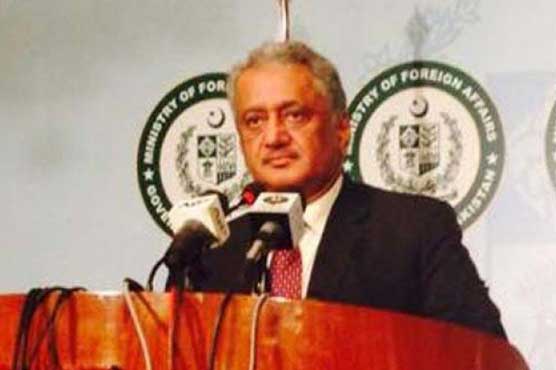 He said the tensions must be tone down through dialogue
ISLAMABAD (Dunya News) – Pakistan Foreign Office (FO) on Thursday expressed concerns on the ongoing tensions between Turkey and Russia and said that both countries should hold dialogues to tone down tensions, Dunya News reported.
In a press briefing, Foreign Office spokesman Qazi Khalilullah said that Pakistan has concerns over tensions between Turkey and Russia. He said the tensions must be tone down through dialogue adding that Pakistan is desirous of peaceful solution through dialogue.
Talking about executions of opposition leaders in Bangladesh, Khalilullah said Bangladesh should respect the three-party agreement of 1974. He said Pakistan will summon Bangladeshi High Commissioner in Pakistan to protest summoning of Pakistani High Commissioner in Bangladesh.
The FO spokesman said the motives and details behind the executions of Jamaat Islami leaders will also be discussed.
Talking about the rising Islamophobia after the deadly terrorist attacks in Paris, he said it is not appropriate to link terrorism in France with Islam, adding that the international community should take notice of attacks on Muslims.
Turkey shoots down Russian warplane
Turkey said it shot down the Russian warplane after it repeatedly violated air space above the Turkish border. Moscow however insists that the plane never strayed from Syrian air space.
Erdogan said that the incident early on Tuesday showed "what kind of consequences careless steps could have". He revealed that two Turkish citizens were wounded by pieces of the Russian plane that fell on the Turkish side of the border.
The president dismissed Russian claims that the plane had been on an anti-terror mission against Islamic State (IS) jihadists in northern Syria, saying that the area was populated by Syria s Turkmen minority.
---
Read: Pakistan express deep concerns over Bangladesh executions
---
Pakistan on Sunday had expressed deep concern and anguish over the unfortunate executions of Bangladesh National Party leaders Salauddin Quader Chowdhury and Ali Ahsan Mojaheed.
In a statement, Foreign Office Spokesperson Qazi Khalilullah said Pakistan is deeply disturbed at this development.
The spokesperson said Pakistan has also been noting the reaction of the international community on the flawed trials in Bangladesh related to the events of 1971.
He said reconciliation is needed in Bangladesh in accordance with the spirit of Pakistan-India-Bangladesh Agreement of 9th April 1974. The agreement calls for a forward looking approach in matters relating to 1971. He said this would foster goodwill and harmony.