Last Updated On 12 November,2015 06:03 am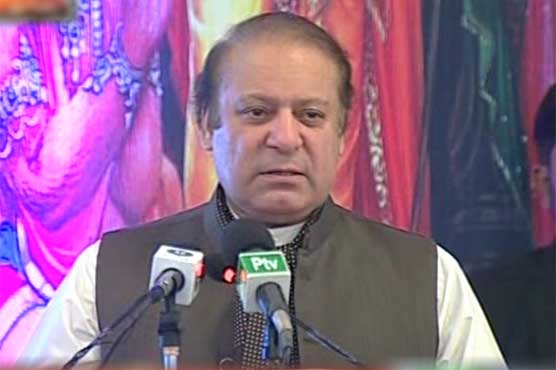 Prime Minister also expressed the desired to be sprayed with paints
KARACHI (Dunya News) – Assuring the minority community of its rights, Prime Minister Nawaz Sharif on Wednesday said the government stands with the oppressed and against the oppressor, Dunya News reported.
According to details, PM Nawaz reviewed the Sea Spark exercises on his visit to Karachi. He was welcomed by the Naval Chief Muhammad Zakaullah upon arrival at the Nasr ship in the Arabian Sea.
He saw the combat ships and units in action. The navy unites practically exhibited traditional and non-traditional warfare operations. The purpose of the fleet review was to fully demonstrate the combat capability.
The firing by modern weapons and fly-pasts of fighter jets were also part of the exercises. The Prime Minister also witnessed the practical demonstration of dealing with terrorists and pirates on the maritime.
The Deputy Chief of Naval Staff briefed the Prime Minister on the role of Pakistan Navy in naval exercises and security of coastlines and maritime.
As per the Pak Navy spokesperson, PM Nawaz expressed complete confidence on operational capabilities of the Pakistan Navy.
Federal Defence Minister Khawaja Asif, Governor Balochistan and Governor Sindh were also accompanying the PM.
Prior to this, PM Nawaz accepted the invitation of the Hindu community to promote harmony and participate in Diwali celebrations in Karachi. Nawaz Sharif said it is his responsibility to be of service to everyone, adding that he is everyone's Prime Minister regardless of faith or communal differences.
The Prime Minister also expressed the desired to be sprayed with paints on the occasion of Diwali only to be reminded that colours are sprayed on Holi and not Diwali.
He also mentioned the anecdotes on the festival he had heard from the ancestors. PM Nawaz also announced to build Bhagat Kanwar Ram medical complex in Hyderabad and renovation of Baba Guru Nanak Gurdawara.