Last Updated On 07 August,2015 About 0 seconds from now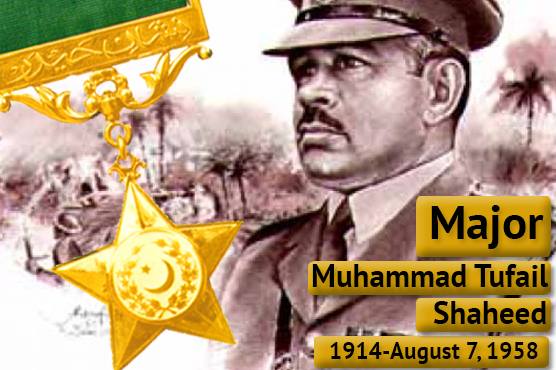 "I have completed my duty; the enemy is on the run", Major Tufail's last words to his junior officer
LAHORE: (Web Desk) – Major Tufail Muhammad Shaheed (1914-1958) embraced martyrdom on this day 57 years ago while fighting the Indian troops who had illegally broken into East Pakistani territory. "I have completed my duty; the enemy is on the run", were his last words to his junior officer.
"I have completed my duty; the enemy is on the run."Major Tufail Mohd who kept fighting until his last breath#Salute pic.twitter.com/QdlaKh7xKR

— Neelofar Khan MD (@Neelkhan0209) August 7, 2015
In 1958, while Major Tufail Muhammad was posted in East Pakistan as a company commander, Indian troops, violating the international boundary, broke into Lakshmipur village in East Pakistan. As the company commander posted in the area, Major Tufail decided to launch an offense and get the place cleansed on August 7, 1958.
Dividing his men into 3 teams, Major Tufail ordered to close in on the Indian soldiers from all three sides. Soldiers started to crawl their way towards the Indian troops in an attempt to make them withdraw. Though they were able to reach close to the Indian troops unchecked, as the firefight started, the Pakistani soldiers had to suffer serious casualties as they were completely vulnerable to the Indian firing.
Company Commander of batallion of East Pakistan Rifles, got three bullets in stomach, Major Tufail Mohammed Shaheed pic.twitter.com/jeA9t9KfXi

— Sarfarosh_ (@Sabre20483) July 1, 2015
Major Tufail also received bullets in his stomach but, in the line of duty, the major kept crawling towards the Indians. He still had hand-grenades and was able to destroy key enemy posts. In the meanwhile, he had also spread panic in the Indian lines.
Looking at one of the Indians, who was causing heavy casualties for his soldiers Major Tufail crawled to him and engaged him in a one-on-one fight. Finally, he was able to overcome the Indian commander by hitting him with his steel helmet. He was eventually able to force the Indian team to withdraw but instead of giving up, Tufail called his junior officer to tell him the job is done. "I have completed my duty; the enemy is on the run", he said.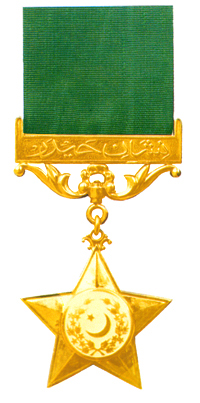 Pakistan army honored Major Tufail s bravery by awarding him the highest military award of the country Nishan-e-Haider . He was buried in his native town of Burewala in Punjab, Pakistan.