Last Updated On 18 July,2015 About 0 seconds from now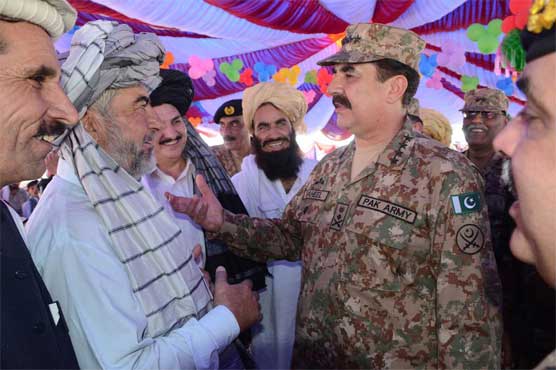 Nation's support and trust army's biggest asset, terrorists are on the run, says General Raheel
NORTH WAZIRISTAN: (Dunya News) – Chief of Army Staff (COAS) General Raheel Sharif has on Saturday said that the army will not disappoint the nation in any of the missions assigned to them. He said that the support and trust of the nation is army's biggest asset. He said that terrorists are on the run today but they won't find a place to hide, reported Dunya News.
According to Inter-Services Public Relations (ISPR), army chief visited North Waziristan on Eid and met the soldiers of Pakistan army. Raheel Sharif was also briefed about the progress of Operation Zarb-e-Azb. Expressing his satisfaction in the progress of Operation Zarb-e-Azb, Raheel Sharif said that the entire nation is behind the army. He said that the martyrs cannot be forgotten on the Eid.
General Raheel Sharif said that positive results have been drawn from the anti-terror operations in the urban areas. He said that the focus is not just on catching the terrorists but also their financiers, sympathizers and facilitators. He paid rich tribute to the martyrs, injured and the fighting soldiers.
Army chief also met the Internally Displaced Persons (IDP) at the IDP camp in Bannu. He assured them of complete support of the Pakistan army in restoring peace and progress in Federally Administered Tribal Areas (FATA). He also directed immediate return and rehabilitation of the IDPs.