35 perish, 200 injured as rain turns deadly in Peshawar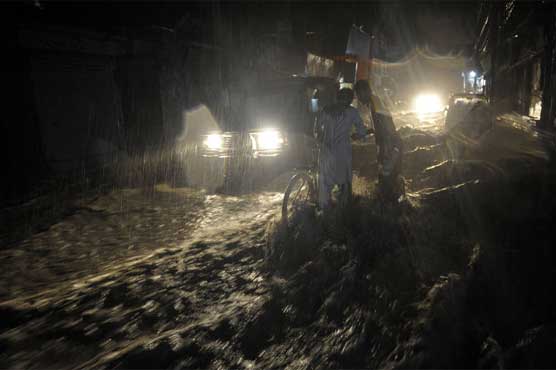 Rain, hailstorm and thunderstorm caused several roofs to collapse
PESHAWAR (Dunya News/AFP) – At least thirty five people have died while over two hundred are injured as rain and storm turns deadly in provincial capital and surrounding villages including Charsadda Road, Badhu Samar Bagh, Badhani Pul and Liaquatabad.
According to details, rain, hailstorm and thunderstorm caused several roofs to collapse as the rain that is considered blessing in this season turned deadly.
The injured have been rushed to the hospital but the rescue efforts are being slowed down due to the logistical problems.
Sign boards and polls collapsed and several trees got uprooted following the disaster which caused most casualties. The rescue officials have also confirmed that several children and minors are also among those injured who have been rushed to the hospital.
At least 4 persons died and another 11 injured as several roofs collapsed in Charsadda as well.
The provincial government has imposed emergency in hospitals across Peshawar. Talking exclusively to Dunya News, Khyber Pakhtunkhwa's Information Minister Mushtaq Ghani said that the metrological department did not issue any warning about the rains, thunderstorm and the hailstorm.
Mushtaq Ali Shah, director of the provincial meteorological department, described the storm as a "mini cyclone with wind speeds of 110 kilometres per hour (68 miles per hour)".
He added the cyclone had lost speed but heavy rainfall was expected in the province s northern districts over the next three to four hours.
Mehsud meanwhile told AFP that rescue operations were being hampered by the blocked roads and disrupted communications due to the collapse of mobile towers.
The military was also called in to boost rescue efforts, equipped with ground penetrating radars, concrete cutters and sniffer dogs, according to a tweet by the army spokesman.
Prime Minister Nawaz Sharif expressed his grief over the loss of life and property.
"He extended condolences to the aggrieved families and asked provincial government and disaster management authorities to gear up rescue efforts so as to control the damage," a statement by his office said.
Safety standards, particularly in construction, are very lax in nuclear-armed but economically underdeveloped Pakistan.
Many of the more than 200 killed in last year s heavy monsoon rains died after roofs collapses.
Poor construction was blamed for the collapse of the Margalla Towers apartment block in Islamabad in a 2005 earthquake, killing 78 people.
The city of Peshawar is also at the forefront of Pakistan s battle against an Islamist insurgency that rose up in 2004 following the US-led invasion of Afghanistan and the migration of Al Qaeda and Taliban militants to the country s border tribal areas.