Hunza, Nagar to be given district level statuses: PM Nawaz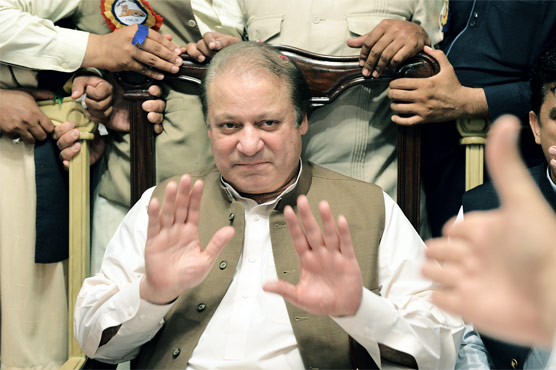 I have not come to Gilgit to conduct 'container politics', says PM
GILGIT-BALTISTAN (Dunya News) – Prime Minister (PM) Nawaz Sharif on Tuesday has said that Hunza and Nagar would be given district level statuses. He said that Gilgit-Baltistan resides in his heart.
He expressed these views while addressing the participants of an open gathering in Lalak Jan Stadium.
He said that the Gilgit-Baltistan Council meetings used to be held in Islamabad in the past. His heart beats with those of the residents of Gilgit-Baltistan, he added. The PM said that he always works for the betterment of the country people.
Nawaz said that he did not come to Gilgit to conduct 'container politics'. Prosperity, future and fate are all in hands of Allah Almighty, he added. He said that a state-of-the-art road was constructed from Khunjerab to Raikot.
The PM acknowledged the need of a university in Gilgit-Baltistan. He said that the government would reduce the distances of both land and hearts with the people. He said that he has come to the province to discuss ongoing and future coming constructive efforts.
The PM said that projects worth at least Rs 40 billion are in pipeline for the northern areas. New ATR planes have been bought for Skardu and Gilgit, he added. Nawaz said that new roads would be constructed through Pakistan-China Economic Corridor (PCEC); a railway line would also be laid.
PM Nawaz said that the youth would be given loans for different productive purposes. A railway line would be initiated from Islamabad to Khunjerab, he added. Nawaz said that people wishing to start small factories would be provided at least Rs 20 lac loan by the government.
Earlier the PM said that Gilgit Baltistan will be brought at par with developed parts of the country, the Radio Pakistan reported.
While chairing a meeting of Gilgit Baltistan Council, the Prime Minister directed the concerned authorities to spend development funds in transparent manner. He said corruption will not be tolerated in any circumstance.
Governor Gilgit Baltistan Chaudhry Barjees Tahir gave briefing on development projects.
He said a special force is being established for the security of Shahra-e-Karakoram. He said that a policy for protection of forests has been formulated for thirty years.
Barjees Tahir said the people of the area is thankful to the Government for development package of forty-seven billion rupees for Gilgit Baltistan by the Government.